Amarillo Graffiti Comments


The most recent comments are at the bottom of the page:
---

*First comment: April 30, 2008:


Thanks!!!!!

Loved it and remembered most but had forgotten lots.

- Love, mother (my mom - Selma)


---


Thank you so much. This does bring back memories.

Thanks,

-Judy (Dosher)


---

I'd swear that is my father standing on the corner in front the Kress store!

-Jayne Starks


---


THAT WAS GREAT!

THANK YOU,

-TOM BECK

I SAW THE BLACKBURNS STORE ON POLK. I SOLD THAT BUILDING , 55,000 SQ. FT FOR $110,000 INCLUDING THE PARKING LOT NEXT DOOR IN THE EARLY 90's, ABOUT $2.00 A SQ. FT AND A FREE PARKING LOT. THAT LOT PROBABLY SOLD FOR A FORTUNE WHEN THE SANTA FE BUILDING OPENED BACK UP. OH WELL, TIMING IS EVERYTHING.

THANK YOU AGAIN!


---


This is so cool.....Really brings back some old memories.

These are pics of Amarillo in the 60's.

Enjoyed

-Barb


---



Dear fellow Amarilloans,

I am sitting in front of my computer crying over an email that I received from my sweet mother back in Amarillo. I was born and raised in the great metropolis of Amarillo and am proud of my heritage. I left only because I married a yankee who stole me away to Massachusetts and then Maryland where we are now. I have been scrolling through the old photos of my beloved town and remember all of it. I too "dragged down Polk Street" more times than I can count, had my first movie theater balcony kiss in the old State theater on Washington Ave., and ate in just about every drive in, burger joint, and the great Shakey's Pizza Parlour where I sang songs and watched my dad have the only beer he ever drank in front of us kids while we ate the world's best pizza. I had my first root beer and hamburger at the A & W drive-in and thought that the Zider Zee was a real wind mill. My family and I would sit up in the Snead Estate offices and watch every State Fair Parade and then would walk the fair grounds eating footlongs and drinking Coke and loosing money on the games of chance. We shopped at the Hub and Colberts for all our clothes, Gattis' for our shoes and T.G.& Y. for everything else. (Furr's and Piggly Wiggly were our grocery stores of choice) I remember picking up aunts and uncles at the old airport and sitting at the diner and watching the buses leave the terminals-wondering what exciting place they were going to. We watched painfully as the old Amarillo High burned to the ground and we all graduated from the new one. My father is a graduate of the old Amarillo High along with his two older brothers and Dad has been a practicing dentist in Amarillo for almost 50 years! I love that town and will always consider it home no matter where I live or how far I travel. It was the best place in the world to grow up and it still holds all the memories of my great grandmother, grandmother and grandfather (who helped build parts of Amarillo and helped established Vega), my mother and father who (thank God) still live there, and my sister's and brother's families who also call Amarillo their home. You all have put together a wonderful tribute to the city and it's people and I thank you for it putting on line where those of us who had to leave paradise can still go back and remember how great it was to be a kid in Big A!

Thank you from the bottom of my Sandie heart,

-Melinda "Mindy" McCausland Johnson

---


I graduated from Amarillo High in 1960. This website is wonderful. Wish I had held onto this many memories. Thanks so much.
-Betty


---


Incredible website, very helpful information.

My Grandparents lived in Amarillo from 1947 until their passing about 8 years ago and I lived there 1963-1965 and used to spend a lot of my summers there as well as holidays.

Thanks,

-Paul Hinson


---


The site is outstanding to go through and look at all the pictures.. I did not know that western plaza was destroyed. I have a lot of good memories of that place when I was a child. Looking at the old photos you have on the site brought back a lot of memories for me. Like the water fountains on each of the Mall. Ill miss that place awhile all who walked through its doors over the years.

-Shawn Garrett

---


Ronn, I just got your wonderful website from Selma. Thank you!! It brought back so many great memories. I know it took lots of time and work to put all these wonderful photos together and I really appreciate it
Thanks, again.
-Cheryl Danile Mullen
Class of '66


---


I really enjoyed this, my cousin Iris Pitts forwarded it to me. I, of course, forwarded it to all my PD contacts, and kids who later went to PD so they could see what it was like in the 60s. Thanks for sharing, it is really a wonderful web site. I added it to my favorites. Great songs.

-Carolyn Branum Davis
Class of '65


---

selma, tell ron i enyoyed all the pics of streets where we grew up. i woulddn't trade a day of it for anything, except for a few blizzard days. thanks for all your info.
-floyd johnson


---

great,suuuuuuuuuuuuuure brought back good memories,
-d.m.

---


Thank you so much for sending that link. For me, it was lots of fun looking through the pictures and putting them with stories my mom and dad have both told me through the years. It's also fun to see the things that are from my time like Western Plaza and Sunset Center....I have fun memories from both places. Since my mom is in the nursing home and can't be a part of your 60th birthday celebration, I may print some of those pictures out and send them to her. Please tell Ronn Wood thank you for his time to compile the pictures and if you have time, ask him if he minds if I post the link on the message board I post on. It's Our Country Roads and those of us on there are either Amarillo natives that have had to move away or people who have always and still live in Amarillo. If he doesn't feel comfortable with that, I understand.

-Monica Freeman (Sharon Tatum Edmondson's daughter)

---


Very cool… Too bad they haven't invented time travel yet. I'd love to go back and just walk around. Maybe I'd run into myself skipping school.
---Ron Jones Tascosa Class '72

---

AWESOME Ronn...you never fail to amaze me. Even tho this is before my "time" in Amarillo, (mine started in 1976) it still brought tears to my eyes to see the places I "remember".... i even lived in the blvd. ramada at one time, but it was called something else by then. I am gonna share this with my amarillo people.

-Konii (in Iowa)


---


Ron, thanks so much for the wonderful trip down memory lane. My brother, Tommy and I, and cousins all really enjoyed them. Thanks again.
-Iris


---


alot of those pictures bring back nice memories. sure is nice to see old Amarillo. I remember cruising on weekends.
Excellent job.

-Rick Ortega


---


These are great, Ronn. Loved the shot of Ruby Lewis, Lady Cool Breeze.

– Karen Welch --Globe News


---


I enjoyed your email and Mark will get a kick out of seeing the pics. I remember dragging up and down Polk all night Fridays and Saturdays. Take care.

-Teresa D. Tascosa Class of '78


---


I sat down with my older sister (Class of '50) who proceeded to go through the pictures and not only enjoy them as they are but started remembering the way some things were in the 40s: Cretney's Drug was at 6th and Polk in the Barfield Building, here was the Capitol Theater, over there was the Leon Theater (later Skaggs), bought some 78 RPM records at a shop in the Paramount Building, this was where Sears was (10th and Polk), NE 8th was only 2 lanes (Amarillo Blvd/Rt 66), right here on Polk was a little cafe we really liked, etc. Very enlightening!


---


You have to look at this link. Growing up in Amarillo. Man, It was so simple back then. Can we ever go back? Yeah, to the memories. So sad now that the kids of today never felt or heard the enthusiasm of the old song the "Beach Boys" produced..."Be True To Your School." Ya'll enjoy this one, be sure your speakers are active!! Now let's tale a walk back in the good times...gw

PS. Take a hard look at the Christmas on 7th and Polk St...that 4dr '57 Ford, could it be??? Naw,,could it??

---


These are awesome photos! When I think of Amarillo, these are some of the views that come into my mind.....even though many of them don't exist anymore. We lived in Amarillo from 1960 to 1968 and returned in 1970 to live there until we moved to Michigan in 1986. Three of our four kids were born there (Melissa, the only Michigander in the bunch!). Here are a few of my memories:

Eating at Stanleys and Dinos - my little brother and I ate our burgers on the rear shelf of our 1960 Ford Galaxie 500. We could watch the teenagers driving up and down...in and out.
My mom shopping at Colberts.
Milam's (I think) Toys in Wolflin village
The old Saint Anthony's Hospital...when it was thriving - that's where Monica and I met in 1973
Opening the new Northwest Texas Hospital
Shortly after Sunset Center opened, they had a space ride in the parking lot. It spun, centrifugal force made you feel like you were "in space" and springs on the seats allowed you to jump higher as if you were "weightless". Sunset Center also had a small tent-like movie theater in the center where my parents would "park" my brother and me while they shopped. We watched cartoons all day!
Major Comar (I was on his show for my 8th birthday)
Freddie the Fireman
Late night patty melts at Denny's and Sambo's (!)
8 tracks with intriguing cover shots
AND
Numerous trips to the Amachron world headquarters to pick up my tapes!

Ahhhh...!

Don D. King
Executive Director,
Facilities and Clinical Technology
National Facilities Services Kaiser Permanente Oakland CA


---


This brought back a lot of memories. I didn't grow up in Amarillo, but we were there a lot. Every fall we went shopping for school clothes at Fedway (my life's ambition then was to be an elevator operator—they had such fancy uniforms!). We went to movies at the Paramount and the Esquire. Wasn't there a Skaggs Drugstore on Polk? Seems like we went shopping there. My aunt and uncle and cousins lived a block from Palo Duro High on Arthur Street so we were on Northeast 8th a lot when we visited them. Anyway, thanks for the memories. It was fun.

-- Sherry Seabourn in Pampa

---

Now that was interesting & fun! I remember the flame on that building. We thought that was the neatest when we were going through there on vacation back to Illinois every year. Check out the gas prices!! WOW! They sure messed up the prediction on what cars would look like in 1990. My record player was blue & white. That was really fun looking back at everything! Thank you for sharing!!!!!!!
-Brenda (Austin TX)

---


Just wanted to let you know how much I enjoyed looking at all the pics! Brought back a lot of good memories. Good job!

Thanks,

-Peggy (Hendren) LaFavers


---


Very cool, Ronn. As I looked at the photos, the cars seemed to stand out more than anything. Why didn't we have the sense back then to mothball about 100 of those old clunkers? Then we could retire now!

Also, Ruby Lewis looking really HOT! Ha ha. Thanks for the memories.
-- David Horsley


---

Ronn - Should have known you were the one who did that. My mother emailed it to me today. It is FANTASTIC! Just proves how old I am. I've contacted Kent Cooper to see if he has pictures of the original Cooper & Melin and when it was in Wolflin Village. His dad is still alive. I'll let you know.

-Brenda Brooks

---

As a long time Amarillo resident (1962 Tascosa grad), I wanted to thank you for all the great old photos in Amarillo Graffiti. What a trip down memory lane!

-Chuck Speed

---

very very good. I like the go-low sign, What a collection of pictures and cards!!
--Andy Lange (Odessa)


---

Love your graffiti presentation…Thought you might like a photo of the Palo Duro drivein theatre..

-Gregg Bynum Amarillo

---


This was wonderful !!! Oh , did it ever bring back memories. Wonder how I could have copies of these?

Do you know? Oh, the history. It is like going back to my young years. Thank you so much !!!!!

Hope all is going well. It was great to see you, but not enough time.....
-Raenell

---


WOW! This is nostalgia at its height!

Thanks for sharing

-Ali


---


You have done a wonderful job photographing, collecting and presenting. I enjoyed paging through Amarillo and Amachron history. Thanks for sharing.

--Margaret Snead

---

I can't tell you how much I have enjoyed looking at the pictures that you have highlighted. I just keep going back and looking and have forwarded to quite a few folks already. You are to be commended for your hard work and I am very appreciative of it. I will look through my pictures at some point and see if there is anything that might be of interest to you. We just didn't take that many pictures in 1960's because they were kind of "expensive" for may families. Please keep us posted of any further work that you do. The picture at the dance at Palo Duro High was awesome. That is Pat Daniel right in the middle and I was most likely across from him. We dated off an on from our 7th grade to 10th grade. Fabulous!
Many Thanks ~
Nancy Pinto Steen
Palo Duro High School
1967 Graduate

---

That's really cool. Thanks for sharing and I'm loving the Bette cover!
-Ashley Brink

---

I've been gone for 40 years and the pictures brought back a lot of memories. Thanks
-Patricia Orf

---

I had never seen this website before. THANK YOU !!! it is wonderful. Thank you so much for sharing and putting up these old pictures.

THANKS AGAIN !!!! the photos and feelings just left me breathless and speechless.

-Rachel

---

We love it.
We'd like to see St. Mary's Academy, Price College & St. Anthony's Hospital.
You might get those from someone at the St. Mary's Alumni.
Keep up the good work.
You rock!

-Rosalie (Baker)Vogel -SMA '62
Norman Vogel -Price '61
Both -St. Anthony's '65

---

As always, your photos are fantastic! My childhood was not spent downtown much; the buildings that seem so lively in your pictures have always been kind of run down in my memory. But like I said, I didn't spend much time downtown until I was nearing high school graduation age.

-Kerri Pierce

---


Sad how Amarillo has lost it's sense of history and community.Polk Street was amazing.Sad that you can't even go "drag Polk"anymore.I feel so sad for my daughter Madison(she's 16) who will never know what fun is.Man I am getting old!

-LaVerna Ferril

---

Hi,

A friend just sent me an email about your site, and I've loved looking at the photos! They really brought back memories. I was born in Amarillo in 1953, graduated from Tascosa in 1971, and went on to Amarillo College before leaving for Texas Tech and then Florida State University. I also lived in Wyoming for a while before returning to Amarillo in 1990.

In 1995 I moved to Brighton, in Sussex on the south coast of England, but I still return to Amarillo to visit my mom, Bonnie Munn, who turns 88 this year. My dad, John Munn, who died in 2005, was a well-known amateur golfer who was inducted into the Panhandle Sports Hall of Fame in 1972. In 2000 he was named as one of the Top 100 Sports Legends of the Panhandle.

Since Dad died, I've been even more drawn to memories of my childhood in Amarillo, and I've started collecting historic postcards. Some of them I recognized from your site. Would you be interested in my scanning some of the others for you? Many of them are from the really early years of Amarillo, from the 1910s and thereabouts, and they include historic houses, neighborhoods, buildings, and streetcars. I've bought most of them on eBay.

Thanks very much for your wonderful website. Using the Beatles' "In My Life" as a soundtrack was a brilliant idea, too!

All the best,

-Debra Munn

---

Outstanding, extremely enjoyable website. And thanks for forwarding the link, Don.

If anyone has info about Penny Reid (Penelope Nan Reid), who was my foster sister for a year about 1957 & attended Lee Bivins elementary for one year in the first grade, I would very much like to hear from him/her. I think Penny was originally named "Marsha" (last name unknown), and perhaps came from the Skellytown area.

Regards,

-Bill Reid

Son of Dr. Howard & Lucile Reid, brother of Dan Reid.

Childhood in Amarillo 1950-52 (Harrison Street), 1954-61 (South Parker Street).

-Musical Arts Conservatory kindergarten, Mrs. Lane's kindergarten, Lee Bivins elementary, Stephen F. Austin Jr. High, one year at Amarillo High.

---

My husband and I have enjoyed the pictures of Amarillo so very much. It is like going back in time. Wish you could include the Double Dip on Polk St. and the Santa Fe Railway Station, which both bring back so many memories. We forwarded the info to relatives in Michigan who lived here in the 60's and they were thrilled. They said when they come back to Amarillo, it just doesn't look the same. Now they can click on their computer and come back to Amarillo the way they remember it. Thanks for the good work.

Sincerely,

-Viola Akins

---

Thank you so much for the wonderful memories! I attended the Old Amarillo High School and graduated in 1951. After graduation I went to work for Southwestern Bell Telephone Company. I moved away in 1952 but the pull of Amarillo was always strong. I returned to Amarillo in the mid 1980's and have made my home here ever since. Only one other thing I remember that was not featured in your wonderful tour down memory lane was the "Beef Barrel" which is now on Plains Avenue. I know years ago it was located some place else in Amarillo, but can't remember exactly where.

Thanks again and I am looking forward to any updates that are down to the web site.

-Virginia (Austin) Baggerman

---


This is awesome. Thank you for the memories and for sharing.

-Sandie Walser


---

I liked the sequence shots showing the old Amarillo Hotel coming down. I remember it like it was yesterday.

-Robert M.

---


Thank you, it brought tears.
-Ginger McCarthy Age 46

---

This is best collection on Amarillo I have seen. Really a trip back in time. What do you do with this?

-Eugene McCartt, CPA

---

That was wonderful - Thank you!!

Sincerely................. Elizabeth Pike

---

Dear Amachron, I really enjoyed your presentation of Amarillo Graffiti
until I got to page 2 and found a glaring error. KFDA Radio changed
it's call letters on September 1, 1966 and I was the sign on dj not Jay
Speegle. Attached in a jpg file you will find a copy of the first
printed KPUR Big 50 Survey. You will notice the date of Sept 5 on the
page without the pictures. We still have friends and do visit Amarillo
when we can, so I would like to see your presentation corrected! Thanks
for your attention in this matter.

-Best Regards, George Taylor

(it has been corrected)

---

Is this the person who put together the spectacular Amarillo Graffiti? I was born and raised there.. I sat at my desk watching the precious piece with tears happily welling in my eyes... It's just fabulous!! I sent it on to my good friend who's Grandmother is Mary E. Bivins..and uncle is Dick Bivins he just called me to tell me thanks..................
-Elizabeth

---
My name is Jared Sherman and upon receipt of this e- mail, I realized that the picture of Ruth's steakhouse is actually a picture of my father and my great grandmother, as well as my grandfather at the bar. If you could e-mail this pic to me so we could blow it up that would be great. If you have the original, that would be even better. Please contact me on this matter, I would greatly appreciate it.
Thank you sooo much.

---

Thank you so much for all your time and effort putting the Amarillo or Graffiti together. We had wondered if you were able to get your hands on some pictures of the progression of Wonderland Park and the Zoo. We think that there is surely someone that would have that. Regardless, you have done a wonderful job. Both my wife and I were so blessed by the look back into the past. I am Pastor Tony Poole from Manila, Philippines. Both Calli and I were born in Amarillo and I was raised in Borger and moved to Amarillo in 1967 my wife grew up there. We thank you from the bottom of our hearts for your hard work.

God Bless you,

-Tony & Calli Poole

---


This was wonderful. I am now 61 and remember everyone of these places, especially the Santa Fe train, my

Daddy was the engineer for that very train. This was really a great reflection of my past.

Thanks so much!

-Susan Arnett
Senior Placement Manager
Westaff
Tampa, FL

---


I enjoyed your amarillo show. I was wondering if you know anyone
that might would have any amarillo postcards to sell?
thanks
- ron


---


Thank you, thank you, thank you for taking the time to put together this amazing collection!

Blessings,
-Jim Wilson (former Amarillan!)

http://www.jimwilson.net

---

Many years ago in the mid 60s I was stationed at Amarillo Air Force Base where I operated a little pirate radio station in my spare time. Wooo those were the days! I have enjoyed your Amarillo Graffiti pages so very much. It brought back many, many memories of that time in my life. Thank you for that excellent work good sir. -A. Bell

---

The Eddie Howe and Tim Eller families (both from Amarillo ) also enjoyed the thunder out of it.

-Ernest in Houston

---

Thank you for the beautiful memories! My aunt that lives there sent this to me. I left Amarillo in 1975, have been back for visits but not for a long time. Gosh, you brought back my teen years and I loved it. There's flashbacks of my high school, Amarillo College, the theaters that I loved so. I can't forget POLK STREET! Thanks again, this is remarkable.

-Sherry Pickens :-)

Las Vegas, NV

---

Wanted you to know how much I enjoyed " Amarilllo Graffiti ". As a child of the 50s, drug Polk, drank & ate at the Hi-De-Ho, visited all the drive in movies and theatres, and all the restaurants on 6th & " North East 8th. Enjoyed my first piece of Pizza at The Tower of Pizza. As president of The Old Route 66 Association of Texas I am into preservation, including trying hard to save the Triangle Motel& its signs. It's a shame we did not preserve all those neon signs on Amarillo Blvd but there are still a few left to save if we can get some funding.

Thanks for a well done job.

-Bob " crocodile " Lile, Prez. Old Route 66 Association of Texas

Texas, Oklahoma, New Mexico Rep., Route 66 Pulse Newspaper

Lile Art Gallery www.artamarillo.com

ifyoueverplantomotorwesttravelmywaytakethehighwaythat'sthebestgetyourkicksonroute66

I received the email on your pictures and enjoyed it so much. We came here in 1962.

During this time, I've lost a husband, gained a new one, started writing poetry, and now my son, Alan McNeil, is restoring the Triangle Motel on Amarillo Blvd. I'm so glad you had the old Triangle Motel postcard included.

Hope you'll drive out soon and see the site.

---

Hey Guys ~ Just a note to thank you for the excitement! I was sent your website here by George Taylor (I think,) and it was totally amazing!!! Just wanted to say thanks, and to give you my compliments/congrats. A lotta great work went into the collecting thing here!

-Ed Armstrong (aka Scotty Mitchell, radio)


---


Love the pictures of Amarillo .

I do miss a picture or recognition of Sutphen's Bar B Q.

We ate there and stood in line on Saturday nights outside in the parking lot to get in. It was the best.

Outstanding page!!! Thanks for sharing.

-Woodway , TX

---


I think we should start a campaign to get the BLUE FLAME light returned to the top of the Gas Building which is now the Amarillo Police Dept.

-David Wilson

---
I lived in Amarillo for 43 years. I now live in Alabama and have for the last 7 years. My husband was born at the Amarillo Air Force Base in 1956. I have a great black and white picture of down town Amarillo at Christmas taken in 1974. I realize that is not the 60's but it still had the Paramount Theatre in it, etc. Most of my city pictures were taken in early 70's, as that is when I was taking photography at Amarillo College.

---


Thank you for the lovely (although tearful) memories of high school days. Boy do I remember dragging Polk street. Guys sitting by their cars and girls riding and waving. Oh for the 32 cent gas (with a glass or plate). Wish I was closer to see all of you. My memory fades of high school due to daily life events but when I see your presentation it all comes back. Thank you again.

-Barbara (Peach) Kelly

---

I graduated from Amarillo High in 1960. This website is wonderful. Wish I had held onto this many memories. Thanks so much. -Betty

Popquizhotshot:whatwasthenameofthedowntownredevelopmentprojectwhichwascreatedin1959?

>Aren't ya glad you put this all together!!! I know ALL OF US ARE!!!!!
-Selma

---


Thanks for the memories. I remember the trips to Amarillo back in
the 60's when I was in High School and marching in the parades in
the fall on Polk street. Shopping at Fedways and riding the
escalators. All those pictures bring back sweet memories. Thanks
again. God Bless you

-Melody Drake

---
Absolutely fantastic. Thanks for the stroll down memory lane. Still miss Myer's Fried Chicked

-LANELLE WINN


---


Wow!

Thanks for the beautiful memories of Amarillo . My family moved away in 1968 (Amarillo Air Base employed) and my memories have always been frozen in that year.

Your Amarillo Graffiti is a rush of things I haven't though of in 40 years.

Thank you, thank you, thank you

-Fred Veazey

AHS 1968


---


Hi, Everybody!

Take a few minutes when you get a chance and take a stroll down memory lane. I was at every place in this montage. So many memories. So many wonderful memories. Page 2 takes a minute to load, but it is worth it. I think I could tell you a story about every place.........every photograph.

To Candi, this is my core. This is the ME.

Daddy took us to the 'TODDLE HOUSE' on every Friday night visitation before we went ice skating in 1959...............I graduated at the 'OLD' auditorium in 1966................Radney, Mike, Kathey, Karen and I 'DRUG' Polk Street in 1960.....................I ate at the counter in 'WOOLWORTH' in 1958 and left my wallet on the ledge underneath the counter. Someone turned it in!.............My best friend at Palo Duro High School my senior year, Debbie Fisher, worked at the 'AIR BASE' in the summer of 1966 and I picked her up there after I finished work at 'PANTEX'. I always knew where to turn by those two towers. She's still my friend.....................I took my first airplane ride to Chicago from the old airport, 'ENGLISH FIELD' in 1962................I ate a million hamburgers at 'TWINGS' and 'STANLEY'S' which are still located on my thighs......................I saw my first 'ELVIS' movie at the 'PARAMOUNT' with Karen and Dee in 1960.........................You were born in 1970 at the old 'NORTHWEST TEXAS HOSPITAL' delivered by my childhood physician, Dr. John Archer whose office was across the street from the hospital....................Mother (Micki) retired from 'ST. ANTHONY'S' hospital in 1987...............Daddy (Forrest Ezzell) was hospitalized in the Osteopathic Hospital in the '50's when his business, LONESTAR TRAILER AND MANUFACTURING burned to the ground and Daddy suffered smoke inhalation while rescuing a picture of Karen and me........................Don (your Dad) made his first sign for the 'TOWNE CRIER' in 1969..........I could go on and on but I think I'll go and just have a good cry thinking about what a wonderful life I've really had.

-Love,

Connie

---


. I'm a 1965 Tascosa graduate and you took me back to wonderful memories, with lots of laughter and tears, Thank-you so much for a little trip back to a wonderful time.

I remember walking from near Plains and Wolflin to Fedway to ride the escalators when Fedway was first opened. We just had nothing to fear back then. We were 12. Although I wasn't raised in San Jacinto , my Grandparents lived near Line Ave and Western. San Jacinto has a history of it's own. I remember the trio of Dairy Queen, A&W, and the popcorn stand near 6th and Bellview. You left out the Rex Theatre where I saw Tex Ritter on his horse live on stage. I could almost list every business on 6th from Western to McMasters. Wow, movies and cartoons all day for 20 cents at the Esquire, and of course the serial made you keep coming back. Kid's Incorporated provided inexpensive recreation under the direction of Ralph Dykeman and Earl Smith. Of course who can forget the fall football games at Dick Bivens Stadium (the concrete bowl), where I spilled plenty of blood. I still have a little red 45 record recorded for the class of '65 Tascosa Rebels with highlights of the year (would be glad to share it on this site). I have a picture from the front page of the Globe News of my first grade class at Avondale under Mrs. Gardner. It refers to the future success of the kids shown (wonder how we did?). We had 7 Linda's in that class. Keep adding to the memories and thanks for the trip back to Amarillo of the past. I've been gone since 1973, but everything seems like yesterday.

- Jim(Jimmy) Simmons

Tascosa High School , Class of '65


---


Thanks to whoever put this together. Brings back a lot of memories.
We no longer live in Amarillo, but it is a great place to live. Sure
do miss those cool evenings.
-David and Donna Day
Keller, TX

---


This is a awesome site. I was online collecting things for a project about Amarillo- to teach my kids about the town where their father and I grew up- and came across this site!

Great job. I loved it so much I sent the link to some other old Amarillo people- including my father, Rex Matney. The 60's were really more his era and he will love seeing all these great places. They really are the places we remember when we think about home.

-Thanks- Jeanne (Matney) Birkhead
---

---


I moved to Amarillo in1941 and left there in 1989 and I'M proud to be from Amarillo I remember these pitcures THANKS I also remember palo duro ice co.on west 6th.street wlere you pulled in and could get block ice or crushed . I went to MC.Kinley grade school on west 7th.st. then to E. nixon jr.hi. 14th.polk next to AHS then to AHS and the MARINE CORP in 1957 thanks again

-HARMON NELSON FORT WORTH TEXAS


---


Very nicely done, Ronn. The music was a nice touch too. Jeez, I feel old now. Hell, I AM old! Never thought I'd get old but I'll be darned if I'm not doing it. I'm turning into my dad.

What I wouldn't give for a dozen or so of those old cars shown on the streets of Amarillo in the 1960s. They'd be worth a small fortune. -- David


---


Yea baby, that's some good stuff. Lot of memories there. Got excited thinking they'd have a picture of the Twin drive-in screen on the e-way with our star on it but the picture is of the first screen before they replaced the neon, damn. Have never been able to find an ad or photo of our star. Also liked the story of draggin polk where they turned around at the Hi-Di-Ho that was across the street from us on Harrison. Have seen old newspaper ads where the Hi-Di-Ho was the original franchise seller of the Colonel's Chicken befire KFC had their own stores. Then later it was Grumpy's titty bar and Maggies gay bar then a lesbian Tejano bar and even a church before they finally tore it down and put it out of the neighborhood's misery. Would like to see an ad for the Colorado MIning Company that was at the apartments we tore down to make our garden on Harrison. When we were wrecking it out some guy came by and told us about the sunken dance floor that we found later over a basement I didn't even know was there and he said he'd gotten drunk "right here" lots of times.

Didn't know Amarillo Blvd was ever called John Glenn Blvd either, very cool.

-mike and susan oldham

dale texas


---


What a trip down memory lane. Throughly enjoyed the site.

-John Bottoms Sr

Lubbock Texas

---
Such a trip and such a life. I was born at the old St. Anthonys Hospital in 1930 and graduated from Amarillo High in 1947! My dad's office was in the Oliver-Eakle building (now Barfield I guess) on the 7th floor in the SE corner office and worked for Mutual Benefit Inxurance Co. so Polk St was a familiar sight to me.

Loved the pictures - thank you for your effort

-Dolores Archer-Reynolds

---
My name is Leigh Ann. My mom and Dad have always told us about how it used to be. There are some things I remember on here but not much. My Dad attended the First Amarillo High and My Mom worked at Furr Foods. Thanks for showing all of that stuff. Now I Know what all the things they talk about looked like.

-Leigh Hooks


---


One building built in 1918 is not in your group The building on the south east corner of 9th & Polk.

-rmegert

_______________________________________________________________________________________

I know this has been stated previously but WOW does this bring back memories.

-RLandBATHOMAS


---


BRAVO!!!!!!!! What a trip down memory lane!! It is such a great thing that these images have been preserved. Whomever is responsible should be praised to the highest.

Thanks so much.

-Philip Burton
Morgan Stanley | Operations
522 Fifth Avenue, 22nd Floor | New York, NY 10036

---


That was great! My two older sisters dragged Polk all the time. They said when their friends got married the husband's would push the bride down Polk street in a wheel barrel. I loved the fact that a couple of our movie theaters had balconies.

Thanks so much for the walk down memory lane. I think the friendly outgoing people in Amarillo are still one of our greatest attractions.

My friends brother George Tiffany played football for Bum Phillips when he coached at AHS downtown.
--Jim Priest Tascosa "78"

---
What an amazing site, you have done an outstanding job, thanks so much! I married my wife Mary there 41 years ago when I was stationed at the Air Force Base. We have all sorts of Amarillo memorabilia and look through it often. Thanks again for all your work bringing back the memories.

-Roy Allen
---

I lived in Amarillo from '46 to '54 when I graduated from AHS and moved away. I now live in North Tonawanda, NY and loved looking at the pictures. My mom worked at Blackburn's and I met my husband at Walgreen's. Great memories. While I knew there had been a fire at AHS it was still open for awhile, but on a visit to see mom and pop who moved back there in '70's, I drove over to see the old school and imagine my shock as I rounded the corner and saw a vacant lot! I didn't know it had come down. However, I still see it in a way as the old high school in Tonawanda (next town over the Erie Canal) must have used the same building plan. It's now an apartment building, but it look just like AHS. Thanks for the great pictures!

-Joyce Johnson Morris, class of 1954


---


Hey Guys,

That is really great and brings back so many memories. I was born in Amarillo in 1949, went to Tascosa High and graduated in 1968. I have many old family pictures of Amarillo if you are needing more. My Grandfather owned the Blackstone Coffee Shop downtown until his death in 1953. I live in Atlanta, Ga. now, but four generations of our family is buried in Memorial Park Cemetery. Again, great job!!!

-Dennis M Stotts


---


Thank you!

-Janie Henley, PDHS Class of '59

---


I loved the food in downtown Amarillo. I especially remember the Silver Grill Cafeteria, Batson's

I loved the food in downtown Amarillo. I especially remember the Silver Grill Cafeteria, Batson's Dining Room, The Black Gold Restaurant, and Sutphen's Bar B Que. I ate at the Coronado Inn, The Crossroads Inn, and the Fountain Inn Coffee Shop. The Downtowner Hotel had a nice restaurant for a while. I'm sure the Herring and Capitol Hotels had eateries inside. There was a great little diner at 4th and Fillmore. I had some lite lunches on the mezzanine at Blackburn Brothers Department Store. I remember the big red neon signs (CHOP SUEY) in the windows of the Canton Cafe at 5th and Taylor. For fries and a burger I drove my car up to The Nucastle, The Hi-De-Ho, Phariss' Dairy Queen, The Double Dip, and The Headquarters Drive Ins. I ate many great sandwiches at The Pig Hip Drive In at 5th and Pierce. There was a great ice cream/malt shop across the street from Amarillo High on South Polk. Occasionally I even had some food at the all night diners in the Bus Depots (there were 2 you know). They served a good chicken-fried steak at a little cafe on 4th St. just west of the Santa Fe Train Depot. The ham sandwiches at Walgreen's (8th and Polk) were excellent and just down the block the fried chicken at Woolworth's Lunch Counter went great with a big ole Dr. Pepper. I believe there was a lunch counter at the Kress Store in the early 60s. A bunch of little bar and grills were tucked along the side streets. There was a Pizza Hut on 16th just a block or so from Embers Fine Dining. West of downtown on 10th was a Toddle House and west on 3rd was Elmo's Drive In. There was also a Toddle House up on Route 66 where dozens of other fine restaurants lined the boulevard. I especially remember Rices Dining Salon and Neal's Steakhouse. Underwood's Bar B Que was west of St, Anthony's Hospital and Farrell Manor Restaurant was on the east side. And I won't forget Bob Dowell's Cafe along there somewhere. All these places were in business and thriving long before McDonalds and all the taco joints showed up. It was a grand time that I remember so well. But I guess they're all gone now. Thanks for all the pictures and memories of the '60s.

-L. Thomas Sharp, Boise Idaho

---


thank you--we had the best (girls, music & cars) era and so fun. i graduated in 1961 at tascosa--this brings memories--

-richard peek


---


My son sent me this. I don't know who sent it to him, but I must say I throughly enjoyed it. I'm 69, soon to be 70 so that really took me on a trip to the past when we move here from Del Rio, Texas in 1965. We were supposed to be here for 10 years but are still here. Kids, grandkids and we all love Amarillo. Thanks to whoever put this together.

-Rose

---
Great memories. Grew up in Amarillo and went to James Bowie Jr. High. Love
the pictures.

-JoAnn Raleigh Maddux

---

Just wanted you to know that the "Myers Fried Chicken" restaurant is still intact at the old Gene Messer Ford place on Georgia, someone is putting a new carlot there and they tore down some of the walls on the inside and found the Restaurant pretty much still intact.

Hope it helps.

-Gayle Neusch

---
Thank you for the wonderful trip down memory lane. My husband was born and raised in Amarillo (1943) until we moved in1971. I lived there from 1950 until we moved in 71'. He went to Tascosa and I went to Amarillo High. Have many memories of dragging Polk Street. Thanks again.

-Carolyn Nall

---

THANK YOU
-WILL

---
Thanks for putting this together. It really brings back memories and strong feelings about growing up in Big A. Dear Amarillo ! May it always thrive.

-Terry Gay Puckett, San Antonio , Texas

---
Where are the pictures of the old zinc smelter? Are ther any pictures of its dismantling?I would have loved to have seen it destroyed!

-Thanks Don---Ps I lived in Amarillo until 1967 Good memories/some regrets.

---
did I miss it???? Didn't see the Silver Grill or Jenkins Music Co. This was fun!!!!!

-Jackie Dodson

---
This is betteer than GREAT AND WONDERFUL. Accolades to whomever compiled this. You have done a great service to preserving history.

- Robert Forrester, Amarillo, TX

---
I was born in Northwest Texas Hospital and grew up on North East 19th and
Hill, started school at Forest Hills Elementary in Miss Steverson's class.
Second grade class was moved to the NEW Whittier Elementary. My teacher
was the same as in the 1st grade, but her name was now Mrs. Denman. Travis
Junior High School was new when I entered the 7th grade. We could look out
the North windows at Travis and see the smoke from the city dump on NE 24th
when the trash was being burned. I Graduated from Palo Duro in 1964. I had
a part time evening job as a janitor at KIXZ Radio when they were located in
the main floor of the old Pioneer Hotel, between Polk and Tyler streets.
KIXZ had a "Showroom Control Room" that had a view of Polk Street. In the
evening, song requests to the DJ's were made by slipping a written note
between the plate glass window and the air conditioner in the alley. Bob
Davis was the most popular DJ who ran the "B.O. Show". I bought my first
"Transistor Radio" at the Go-Low Record Store and my first "HiFi" record
player at Fedway. Mr. Ralph Henry, program manager at KFDA radio gave me my
first HiFi album; it was by Wanda Jackson. Later I worked as a deliveryman
at Colbert's on Polk Street. Sometimes, John B. and Wink C. and I would skip
out of church during the Sunday sermon to sneak across the street to the
"Double Dip" for a delicious double dip ice cream cone.
Also, the fourth picture of the series on the Pioneer Natural Gas Building
(date shown is 1960) is NOT of that building; the building pictured is on
the wrong side of Polk to be Pioneer Natural Gas! It is most likely that it
is the building across Polk from the Downtowner Motel and catty-cornered
from the old Amarillo National Bank.
Thanks for the rush of great ole memories of my "Home Town" this site has
revived!

-David S.

---
Wonderful!! Thank you for reminding me how very lucky I was to have grown up in this innocent time. I love the songs, but I wish there could have been more music.

Thank you for all your time and effort to make something so touching to one's heart.

Thank you!!!!

-Shirley Sterling

---
I absolutely loved "sights & memories" of Amarillo …!!! I am a 1967 grad of Tascosa High School …attended David Crockett Jr. High.

Thanks to whoever did this. There was not, however, a picture of Tascosa..go Rebels..!!

-Ann Allred

---
My old (from 1953 - 55) girlfriend (Arrelene Watson)'s sister (Jackie) just sent me the link to Amarillo Graffiti... What a great trip it was to see the town!

I was surprised that there were no pictures of the old Cretney Drug Store at 6th and Polk ("The Cretney Corner") which was, of course, where Highway 66 crossed Polk Street. There was a radio program, I think called "The Man On The Corner", broadcast from The Cretney Corner, and he would ask questions of the people passing by. The ceiling above the soda fountain of Cretney's looked like long white fur, because the kids would stick their chewing gum on one end of the paper wrapper for soda straws, and then blow through the straw on the other end, blowing the wrapper up like a dart for the gum to stick to the ceiling, leaving the paper hanging down.

And I well remember riding the McMaster's bus from home to the Cretney Corner, then walking to the old Amarillo High School, and how the wind whipped around the Santa Fe building. Seems like it would almost make my skin-tight Levi's flap in the wind!

I appreciated the photo of the old Post Office, which contained our military recruiting offices, and where I joined the Marine Corps in 1953, the photo (below) of Ruth's Steak House, where my parents took me for my going-away dinner as I left for boot camp, and the photo of the Greyhound station where I took the bus the next morning, headed for my new life as a Marine recruit, soon to be on my way to Korea.

Like Bob Hope always said, "Thanks for the memories"! And God bless,

-Jay Graham

AHS Class of 1952

---
Thanks for the photos. There are a lot of great memories from Amarillo . I attended Austin Junior High the first year it was opened. I now understand they are thinking about retiring it because it is out dated, mmmmmmmmm, that really makes me feel old, but not that old.

-Burt in the Bahamas

---
This is great ! I was born & raised in Amarillo. Brings back lots of memories


-Mike Nicholson
Dallas Tx.

---
I loved looking at all the pictures. Been born in 1960, I remember living just up the road from the Texaco refinery, my dad owned the Texaco station on the corner of 3rd and Grand. He also had another station, but forgot where it was located. I remember hearing the sonic booms as the fighter jets flew over head, and walking down Polk street shopping with my mom. Also, my Grandparents sold their home on Mirror St. for the stretch of I-40 to run through town. I have a picture of the parade of Airmen, my mom had it, as well as my great uncle Cliff Moseley has a copy, he was stationed here at Amarillo Air Base. I tarveled all over this planet, in the military, but came back home.

Thanks for the memories.

-Michael Smith

---
From 1962 to 1973 Amarillo was my town, I was young, and I had the run of the town.

I was a young actor, and my agent Jenny Jennie introduced me to a man called Bob Lee, that had a restrant on old 66. To make a long story short, I helped him build one of the most successful business in Texas, called The Big Texan Steak Ranch. That was one of the best times that I have had, along with going to the Pasadena Playhouse in California.

I really appreciate the pictures of Amarillo, it really does bring back memories, but some sad ones as well.

I would like to see my home town relive the past even though I havent lived there sense 1974.

Somethimes, I wish I was the city manager, and I would bring back the grandjure of this wonderfull town, and bring it to the stature that it should be!

Thanks

-Ron Jay

---
I miss Stanley's and the golf course off Bell.

-Lisa Karnes

---
Best email attachment I've ever received! PLEASE COMPILE THESE PHOTOS IN A HARDBOUND BOOK. You'd sell tons of them.

-Pam (Thomas) Hansen
Tascosa Class of '69

---
Loved looking at all the old times, but what got to me most was the picture of the 1st IBM computer installed at Amarillo College. The man in the picture is my uncle Jimmy Stover.

-Cora Bethel

---
This is amazing! It's so much fun reliving all these memories you have put together. My husband and I and his family ran Go Low Records, so we were very honored to be included in this!! Did Bill Woods have anything to do with putting this together?? He was a great customer at Go Low and we could see him doing something like this. Thanks for all the time and effort spent on making this wonderful keepsake.

-Rhonda Biard

---
Who is responsible for this wonderful memory? My parents owned the Jolly Jung, pictured in the fast food grouping!

-Diann Grayson

---
It was really cool to see my youth and yours. Can't tell you how much I enjoyed it.

-Leroy Bolt Class of '68 Sandies

---
This is awesome! I grew up in the metropolis of Hartley, and going to Amarillo was a very special trip in those days! I remember thinking downtown was a wonderland, but especially Kress, Woolworth's, and T G & Y. I still remember the smell when you went in those places! And eating at Myer's Fried Chicken—I loved that yellow gravy! Great photos, looking forward to the updates!

-Donna Lenz

---
Thanks very much for the trip. You have gone to a lot of trouble to do this.

-Gib Satterwhite

---
Thanks for the memories!

-Janie Henley, PDHS ,59

---
Thanks for the wonderful memories. This site will help keep my memories of living in Amarillo in 1959 and again in 1966-1969 fresh in my mind.

You have done a great job covering every interest and I look forward to returning to the site frequently to see what's new.

The music is appropriate...I love Bette Midler's version.

-Doris Hurd (Topeka, Kansas)

---
Hey!

Loved all the pictures. Gosh, I'd even forgotten some of those places. Wonderful to be reminded.

Someone surely put a lot of work into this site. Thanks! I hope lots of old Amarillo people get to view this.

(Where are the parks? We necked at Oliver Echo; listened to free concerts at Ellwood; ate cotton candy at Wonderland; danced at Sam Houston and went down Devil's Slide in Palo Duro...hopefully, without breaking anything.)

Don't know how old you are, but I'll bet we're about the same age. Tascosa grad of '64, I loved this site and will pass it along.

Thanks for the memories.

-Jodie Snyder Nimmo

---
Many thanks for my trip down memory lane.

-Verlin Teague, Age 66

---
Thank you for the stroll down memory lane. I hail from Dumas so a trip to Amarillo was big time stuff. I had forgotten so much such as the Weather Tower! Loved seeing White and Kirk, Blackburn's, Silver Grill and all those good places! Thanks.

-Betty Johnston Blair

Ruidoso, NM

---
Did so enjoy this. It brought back so many memories. I lived and worked in Amarillo for three years in the mid fifties . following college graduation. Several years later moved back to Amarillo where my husband worked for Shamrock and we raised our family. It was a wonderful town...for both you and old. Thank you for presenting this...
-jane rutherford mccane

---


Sir, I have just had an enjoyable 2 hours looking at pictures on Amarillo Grafitti. My husband is 76 and was born in Kerrick, tx 100 miles north of AMarillo. He has lived in Kerrick his entire life going to school in Stratford and W T. We saw so many photos we reconized like Evalenas Hide away, where we ate our first Pizza. Before we married 55 yrs ago we went to the Avalon Ballroom dancing. Certainly a great trip thru the past. Thank you for providing this site for the public.

-Pat Texas
---
Thank you for a great look back. I came here in Sep 61. USAF. I stayed here until Sep 68 when the base began closure proceedings. I returned in July 69 and have been here ever since.

Note: Re: KIXZ on page 2. Rick West did his "East of Midnight" gig between midnight and 6am. His real name was Richard Centner and was in the AF Reserve. He retired as a Major.

Amarillo AFB in 1966/1967 had a total population of just over 22,000 personnel. This included permanent party, students, civilian workers, and contract workers. The biggest increase was due to an outbreak of meningitis at Lackland AFB, TX, the only basic training facility in the AF. A basic training facility was hurriedly built at Amarillo AFB.

-Ron & JaNet Lindsey

---
Fabulous memories. I left Amarillo in 1957, but there are enough early memories here to put a lump in my throat.

Thanks!

-Linda Jonas Walton
Palestine, TX

---
new photos - this site is just extraordinary. Thanks so very much for your efforts.

-Philip Burton
Morgan Stanley | Operations

---
This is a great thing. My family all are from Amarillo . I don't live there anymore but will always consider it my hometown. Also, my great granddaddy owned two of the theaters that are in this wonderful piece. The State and the Victory theaters. Thanks for this.

-Tina Freeman Waco , TX

---
You missed J.D. Souther in the music area. He is from Amarillo . Graduated from Tascosa High School and is in their Hall of Fame. If you need info, let me know.

He wrote and worked with the Eagles and he and Linda Rhonstadt were best of pals and he wrote music for her.

-Patti (Nuss) Oates

Graduated Tascosa High School in 1963.

<>ADDED<>

---
I was born in Friona, TX, but raised in Amarillo. How awesome to see these old pictures. I have never forgotten Amarillo and never lost the longing to move back, although I never had the chance to. I certainly remember downtown...what a wonderful place! We lived in the 1600 Block of S. Hughes Street and I would walk or ride the bus downtown almost every weekend...and by myself. I was only in grade school (Wolflin Elementary), but I was never worried, neither were my parents. Amarillo was a safe place then. My first concert was at the old Civic Autotorium where I saw Brenda Lee. I went alone...yep still in grade school, and had no problems. Thank you so much for the memories!

Nikki Lynne (Dudley) Little

-Lynne

---
Re: J D Souther

Ronn, I graduated from Tascosa in 1963 and he was a year behind me so he would have graduated in 1964.

He has 2 sisters sitll living in Amarillo. Susan Burt. She is married to Mike Burt. Both Susan and Mike have been in the music field for years. And, his other sister is Shari Smeaton married to Tony.

You did a great job. I so enjoyed the pictures and it brought back so many memories of these years.

Music was in J D Souther's bones from the day he was born. His grandmother was an opera singer. His dad sang also and ended up during WWII singing at USO's around the country and he met J Ds mother in Wichita Falls, Texas. My mother, Bea King Nuss, her sister, Mae King Hatch, and Loty Finley Souther (J Ds mother), moved to Wichita Falls during WWII and roomed together. My mother also met my father there and they were married. Daddy sold pianos and organs for Tolzien Music until he retired. And the circle continues around. Since Mike Burt quit teaching band, he is now working at Tolziens. (I suppose it's still called Tolzien's.)

Is Jimmy Gilmer still alive. I used to be a go go dancer part time for him when he was singing in clubs around Ama. We lived at the same apartment complex on Western.

Enjoy, and if I find any trivia that you might want on your site, I'll scan and e-mail to you.

Also, Susan Burt wrote a children's musical and it is published. You might get a copy of that and put it up.

-Patti K. Oates


---
Hi,

I love this site!!! I was born in the Osteopathic Hospital in 1946 and lived there off and on until 1964. I met my husband at the Hi D Ho and was hoping to see a picture of the drive in and of Smitty's, too!
Smitty's had the best hamburger basket!! Are there any pictures of those two places?

THANK YOU SO MUCH FOR THESE PICTURES!!

-Linda

---
`

I have several pics of downtown buildings from the mid to late 60's, including the (I can't recall what building it was) tallest building in town where Marsh had his office on top of the 27 stories….or was it 32?

-Robert Jordan

AHS Alumni Class of 1970

Odessa, Tx these days

---
ran across this web page sure brought back memories thanks very good

-Johnny Gilbreth

---
Folks,

This is a absolute fantastic web site a collection of old Amarillo photos. My family moved to Amarillo in the med '60's and we all graduated from Tascosa High School.

One landmark I don't see a picture of is the old Texas Moon Palace dance bar, it was just over the track at Georgia and Planes street.

In the late '70 and early '80 it was the place to go boot scoot'n and listen to great live music.

It would be great to find out if the Clyde Log band still played or if they ever made the infamous live record they claimed to be recording.

Thanks again for maintaining a great Amarillo web page.

-Regards, Mitch Wright

---
I'm not even from here,….. a transplant,…….. but I loved this!!!

-Sincerely ,Lynette J. Carter

---
Thanks for the memories!!!

-Carletta

PDHS '75

---
I loved this email...It brought back so many memories. I graduated from Palo Duro in 1969....It was wonderful...

thanks........to whomever put it together.....Donna Beer (Cantrell)

---
I really enjoyed this, I live in Amarillo during most of the pictures, Great Job

-Ken Stone,
Lone Star Custom Builders

---
i truly enjoyed the picture gallery, can you tell if anyone in amarillo knows about the pig hip sandwichI truly loved them when I was a young girl, and my daddy loved them too, would like to truly like to have one of them sandwich.

-prettyouma

---
I was born and raised in Amarillo. My parents met and dated there in the 60s. Growing up, they would always point out different places and have fun stories of when they were dating or first married. Loved the tour! Thank you,

-Gracelyn Thomasson

---
Just a note to say how much I enjoyed your pages of historic photos and postcards. I've posted a link to them on my blog -- so many things you show were here in Tulsa during that same era.

-Michael D. Bates
BatesLine

---
I have been looking at your website and love the pictures but I am wondering if anyone can help me with my project. I am trying to find out what the building at 1015 S. Polk was when it was first built in 1926 – 1927. From 1949 until a couple of years ago, it had been Cathey-Fullingim Hardware. Any information or photos of this building would be greatly appreciated!

-Connie L. Hawkins
---
Wow, what a wonderful job of the history of Amarillo and items we grew up with.. Thank you for the trip back down Route 66, Drive in movies The Cozy dog and all..

thanks again.
-Curtis

---
It's a great site. Sent it to all my relatives that used to live here (& everyone else, of course)....brought back lots of memories. My dad worked at the Smelter for several years. And then the picture of the parade, Lawanda thinks Mama & Daddy are in it. I think it's them, too (& possibly Mike) but it's very hard to tell. The Borden plant, Mama & Daddy drove us to see the lights every Christmas when we were kids. And we thought it was BEAUTIFUL! Thanks for the memories.....

-Jayne Starks

---
I somehow stumbled across your website and took a stroll down memory lane. THANKS! I can still hear the water splashing in the fountains inside Western Plaza.

I don't know how many dances I went to with Z93 in that glaring white DJ booth but I really enjoyed this quick trip. Thanks for posting all those great photos!

-Pete Hagan

Caprock '78

WKYT - KY99 DJ back in the days!

---
Re the Amarillo Air Force Base photo at the beginning of page 2. I believe I am the guard

to the right of the building. I think this photo became a postcard.

-William J. Thomas USAF retired

---
What a great website! I was born in Amarillo at NW Hospital in 1954. My parents both graduated from AHS ( 1947 & 1949). Although I grew up in Plainview and graduatd there in 1972, I spent many weekends with relatives in Amarillo. I remember things like Kids Inc, Jim Lake, San Jacinto Methodist Church. etc. These photos really take me back to a wonderful childhood.

-Dan Keffer, The Woodlands, TX

---
Thank you - This brought back many memories.

-Cary Jackson

---
Hey amachron

Thanks for the graffiti pages. It brought back so many memories of things I have not seen or thought of in decades.

-Steve Foreman

amarillo resident 1959 to 1976

---
Truly need you assistance. Have been searching for years for
information about two friends. May I start with one. Mary White - she
graduated from Tascosa HS in 1965 or 66. If you have any e-mail
addresses of any Rebels who graduated those years - please share a means
in which I can get a hold of them. I need to find Mary.

Thanks!

-John Pat Bourassa
Physical Education Dept.
Totem Golf Coach & Assistant Athletic Director
N.C.A.A. Div. I National Championship Official
Sammamish High School

---
Your collection of photographs was forwarded to me by my brother.

I spent most of my childhood in Amarillo, graduated from Amarillo High in 1955 and Amarillo College in 1957.

Even though most of the photos were after I left, the scenes remained the same in my memory. Thanks for sharing the very nostalgic return to the past..

-Don Hodge

---
I enjoyed all your pix of Amarillo. I just found a map of the air base that was given to me when I arrived for my basic training Sept 24, 1966 to Nov 9, 1966. I was in Flight # 380. Squardron 3333 BMTS. I never made it to town and 2005 I rode my cycle through, but didn't stop. I wish I had, but had to be back in Virginia to return to work. I retired that same year, in November, from Verizon, as a telephone cable splicer, which I became at Chanute AFB, Rantoul ILL. I'll get back to Amarillo one day. Chanute AFB is gone , but some buildings remain and there's a nice museum in several hangers there. My oldest son was born there in 68.

Thanks again,

-Charlie Boswell

---
I recall an establishment named the "Lotta Burger" located near Polk and the old N.E. 8th. had just reported for duty at Amarillo Air Force Base after returning from a 3 year tour of duty in Europe and was impressed by the size of their hamburgers for only 30 cents. It was hugh. One really had to be hungry to eat the entire burger. I really like your web site. It brings back a lot of memories. For some reason, the appearance of your new downtown area is depressing. I liked it better the old way, but that's probably the price one pays for growing old.

-Bill Pastor

---
I also recall a place on NE 8th that served a hamburger called the "Plutocrat." It was the size of a dinner plate and cost 75 cents. I'm not positive but I think the name of the place was the Aviatrix.

I guess it took some time before Amarillo recovered from the lost of revenue due to the base closure. I remember the day when the Chief of Staff of the Air Force visited Amarillo to announce that the Base was now a permanent facility. We paraded down Polk Street that day.

When I arrived at the base in October 1951, the barracks and the 13 mess halls were brand new. They were built be a contractor by the name of Del Webb. He was part owned of the NY Yankees at one time. Each barrack cost $88,000 and they had to call the contractor back to install fire escapes at both ends of them. They also had to tear the sides out of each of the brand new mess halls in order to install the boilers that were to heat a given amount of barracks. The space they left for them was too small. Guess someone forgot to read the blueprints.

I remember in 1946 on the East coast when TV first arrived. Stores that sold the sets displayed them in their windows and installed speakers outside on the street. People gathered around and watched. Later, when people began purchasing them, some of them held TV parties at their homes and invited their friends. I enlisted in the Air Force in April 1948 and shipped out to Germany that September. My parents didn't have a TV set at the time, but when I returned in September 1951 they had a Zenith 17" that was their pride and joy. For about 15 days I got to watch some before reporting to Amarillo AFB early in October 1951. No TV in Amarillo at that time. It was 1953 before TV came to Amarillo. There wasn't any Pizza either. When I left Amarillo in March of 1955, there still wasn't any Pizza. I'll bet you have a Pizza joint on nearly every corner now. I wish that Cowboy Steak House would have been there during my time. I couldn't eat the whole thing now but I'll bet I could have put a good dent in it back then.

-Bill Pastor

---
Thank you so much for all the time and effort you put into this presentation. I was born in Amarillo 75 years ago and I am thankful I am still here. I remember nearly all of this and it has brought back very good memories such the Double Dip, the old Amarillo High School (from which I graduated in 1953), White & Kirk, Colberts, the Hollywood, the Paramount and State theaters. I have a picture of my mom, my sister and me walking down Polk Street. A street photographer took the picture and presented it to us. I miss the old Polk Street. My husband came here with the Air Force and the presentation of the Amarillo Air Base was excellent, too. The one thing that would have added the final touch for me would have been something about all the wonderful old churches, First Baptist, Polk Street Methodist, and First Presbyterian, or any of the churches. Thanks for the memories.

-Lera Hudson Boyd

---
I was blown away by the site. My Uncle owned Tower of Pizza where I went every afternoon after school to wash dishes.....lol. nI lived in Amarillo from 65-68 on North Highland Street. I lost touch with my Uncle some years ago and have been trying to find out anything I can about him and the pizza place.He was a very sweet man.If you know anything I would be so grateful to know.Thank you

-Mike Pontarelli

After seeing and reading about all of the wonderful Amarillo memories my brain started bringing back all kinds of things.My Dad worked at Amarillo AFB and my Mom at Varityper,we lived at 1719 N Highland Street but I can not remember the name of my elementary school in 65-68.My Uncle Sam Eveleno owned Tower of Pizza and Eveleno's Hide away where I spent countless hours and loved his cooking!!!I remember my Grandmother taking me to see movies at the State Theatre after a lunch at Woolworth's.I am 51 now and it all seems like yesterday.God bless you for taking the time and love to bring this site to everyone who cherishes the great Amarillo memories.

-Mike Pontarelli

---
Thanks so much for your effort in putting this together. I lived in Amarillo from about 1937 to 1951 when I joined the Air Force. I graduated from Amarillo High in 1950. Have not lived in Amarillo since 1951 but we go back about once a year to visit my sisters. I was lucky enough to take my Air Force technical training at West Texas State University in Canyon so I went into Amarillo every weekend. I met my wife on one of those visits and later proposed to her on Lover's Lane North of Amarillo. We have been married now for 58 years. Some of my fondest memories come from the Pig Hip (Tell Prettyouma she can still get the pig hip sandwich at the Blue Front Cafe, I believe on 6th street) and the Double Dip drive-in. Every time we visit we go to the Blue Front Cafe for a pig hip sandwich. Some one mentioned Jim Lake. My parents would not let us swim there because of the polio scare. I remember the steep hill on Jim Lake Road. If you floorboarded the accelerator at the top of the hill, you get up to 55mph by the time you hit the bottom. Spent a couple of hours viewing your pics and reading the comments. Have been living in Austin for 42 years but I still love Amarillo.

-Bill M

---
Thank you so much for all the information on Amarillo my old home. It's hard to believe the once thriving Polk St is a quiet vacant sector as many down towns are now a days with all the suburban malls and strip malls.I remember the gated entry way at Eveleno's Hide Away as well! Geez I guess I would be pretty shook up to see things now with all of the changes.But the memories are wonderful and such a big part of our lives.It's great what you are doing with the site.I also have some pictures of inside the Tower of Pizza with my folks and the owner and my Uncle Sam Eveleno which I will try to find and scan them for the site.The great thing about Uncle Sam's cooking was it was genuine East Coast Italian fare which as you can guess was a rarity in any part of Texas in those days.Sam was stationed at Amarillo AFB..

UPDATE:

I had a fabulous conversation with Sam Eveleno yesterday.He is 78 years old living in Long Island, NY with his wife Emma and daughter Lisa. Sam told me that the closing of Amarillo AFB was the death of his businesses,he hung on until 1970 but at that point a lot of local businesses were going under. It was bittersweet for him but after I told him people were still talking about Tower of Pizza and Eveleno's Hide a way he was thrilled.Before he left Amarillo for NY he was involved also in managing the kitchen at the country club but the oil guys were always fighting over everything so he left.Anyways I am going to give him the site address as his daughter has a computer he was pretty excited to hear from me so I imagine the site will bring back good memories for him.

-Your friend-Mike Pontarelli (former Amarillian)

---
Thank you for the walk down memory lane. My husband and I graduated from AHS in 1954. We treasure the friendships that were made in Amarillo and will always consider it our home of the heart. Amarillo is where people learned the meaning of being True Texans.

-Linda Jonas Walton
Palestine, TX

---
VERY GOOD!! NILA

-ray chambliss

---
What a beautiful piece of music accompanies this page. How can I get it?

-Henry Clinton

---
I dont see Cal Farleys one stop service station on this. That is where the Sons of the west band played western songs and also studdern sam was there.

-Cecil OKelley

---
FANTASTIC. WHO ARE YOU? FANTASTIC GEORGE MORRIS

-George Morris

---
I loved this . . . so many wonderful memories. Thank you!

-Ann Sampier

Lamar Elementary

---
FYI: J. D. Souther played with a band, The Cinders," before he and I went to California in 1967. The band was well-known and had a record that was No.! in Amarillo and Lubbock for about a month in early 1965. The attachment is a 45 rpm record sleeve of the song. Souther is on the left, Charlie Bates (me) in the middle, and Steve Dodge on the right. I hope this photo might be useful.

I grew up in the 1960s and the Cinders during that time, and in the 1970s and played in a duo with Gary Roller (bass), who had been playing with Alvin Crow and joined Michael Martin Murphey after we'd had the duo for about three years. I really enjoyed viewing the Amarillo of my past, and you've done a great job of assembling a lot of photos and materials. It was a real pleasure to view.

Thanks,

- Charlie Bates

---
I'm MAD!! I SPENT 1/2 MY LIFE ON POLK.

1/2 MY LIFE AT THE DIVE DRIVES. NOT ONE PICTURE OF ANYBODY I KNOW. DON'T FORGET SMITTY'S ON W. 6TH.

SUPER PHOTOS AND GREAT MEMORIES OF OUR YOUTH IN A WONDERFUL PLACE AT A WONDERFUL TIME.

-PAUL & SHARON STRADLEY THS '62

---
Thanks so much for that collection of old photos. I spent 9 years in Amarillo graduating from Tascosa in 1969. I then moved away and only visit about once every 10 years. You brought back some great memories of a City I loved as I grew up. My dad was in the Air Force, retiring in 1968. We moved to California, and I now live in Tennessee.

-Dan Dye

---
I'm 63 and this is a great site! Thank you!! One theater, still standing as the oldest standing theater building in Amarillo, at 317 E. 4th, just west of the public library. A photo needs to be found and hopefully the city will encourage it's restoration. It operated from 1921 until about 1951 and was the only integrated theater in Amarillo during that period.

-Keith Jones Recovering Attorney Amarillo, Texas

---
Terrific pictures, that brought back many memories of dragging Polk! Pity that you have no pictures of Amarillo Little Theatre, and its founder Oma Link Rowley.

Thank you for putting this history together.

-Sean E. Greene

AAFB 1960-64.

---
That was so cool to remember those days. I had forgotten so many of those places I was still a little young for part of it but did go with my parents to most of them. Thank you for putting that together.

-Rita J. Mitchell

---
Loved everything you presented.

The Humble sign shown as you head south from downtown belonged to my dad, Ray Kinard.

-Anna Dunn

---
Thanks, I really enjoyed revisiting Amarillo in the '60's! I was a teenager then and this really brought back lots of good memories.

-Kelly and Linda Preston

---
I would think that someone would have put a picture of the "Barrel" hamburger drive inn on Georgia st

-JOCELYN ARNETT

---
Thanks for the Memories!!

I'm 58 yrs. old and although I never lived in Amarillo, being raised in Dimmitt and Tulia, I visited Amarillo frequently my entire life. Great memories & Great website!!

Don't we long for the "good ol' days"!!

-Lloyd Singer

Tulia


---
I left Amarillo in 1974 and moved to Dallas. Wesley Hardin forward this to me today. I smiled, I laughed and I cried and cried and cried some more. What a wonderful trip down memory lane. I did not know I felt this way about Amarillo. Thankis for the memories.

-Sherrian Fuson - Class 1965

---
An intimate visit to my childhood….thanks for these memories. I visit Amarillo several times a year to see my family. I hadn't realized how much was gone. Thank you for the connection. Loved it!

-Ricky Michael Pass – Canyon High School Graduate/ 1966

---
You have an amazing collection of pictures of Amarillo on your sight. I grew up in Amarillo, graduated AHS in 1974, moved to Houston in the early 90's. A lot of the pictures you have on your site are scans of postcards that my dad's company made. Baxter Lane Co. that was at first on NE 3rd street, then moved to behind the old Amarillo High and later was on North Polk at 3rd street. Great stuff and it brings back so many good memories.

I worked in Amarillo as a paramedic for years and now I'm working in Egypt, of all places, as a safety manager. We just never know how life will turn out.

Keep up the great work, loved the site.

Regards,

-Randal (Randy) Lane

---
For what it's worth, I have the sign that's pictured of stanleys. Used to be lighted, but the bulbs broke. It's on a small pole and the sign is about 18inches or so by 12inches or so.

-John Jones

---
The pictures were great I even seen some of my friends names on top of M Wards building. My High School hospital were my children were born and so many memories.

Dragging Polk was a thing to do in the fifties also.

Also saw several of the buildings my Family took part in building. (John and Bill Goetz and Wallace and Doug Stone.


Thanks for sharing,

-Billie Horn

American Dream Realtors

Runaway Bay, Tx

---
The clips are a great piece of Amarillo history, shown by pictures. Having frequented Amarillo since 1945, looking at them brings back the old times.

-Gerald Schneider

---
I've really enjoyed your Web site and photos that I stumbled upon, this evening. I've always loved photography, because it's like freezing time, forever, and then later it can be revisited. The historical notes were quite interesting, too. I would like to have seen some more photos of the Amarillo Air Force Base, and the advertisements were also cool.

Thank you so much!

-Rick Allison, Realtor, Founder and President

Great Site, Inc.

Amarillo, Texas

---
Thanks for the memories. I've wondered about alot of the places and this has helped. I graduated from PDS in 1957 and left Amarillo in 1959. I've been back for several class reunions and to visit kinfolks, but it is always great to see pictures, you almost expect to see yourself somewhere in them. Thanks again.

-Annie Jean Robertson Hunt

California

---
I WAS STATIONED AT AMARILLO AFB FROM MAR '60 THRU MAR '68, SO CRUISING THRU YOUR ELABORATE TOUR THRU THOSE YEARS WAS SOMETHING SPECIAL >

YOU MISSED A VERY IMPORTANT EVENT IN THE LATE 60'S WHEN THE ONE AND ONLY ELVIS PRESLEY MADE A BRIEF STOPOVER IN AMARILLO > HE STILL HAD THE VOICE, BUT THE DRUGS HAD MADE THEIR MARK > HE WAS ALMOST UNRECOGNIZEABLE - A BLOATED SHADOW OF THE OL' SEXPOT, AND IT WAS SOON AFTER THAT THE DRUGS FINALLY DID HIM IN > REALLY WISHED I HADN'T SEEN HIM, BUT THEN---

BY THE WAY, I WAS A BACHELOR THE WHOLE TIME, AND THE COUNTY LINE RAN N&S NEAR POLK ST, SO IT TOOK A WHILE TO FIND AN APPROPRIATE HANGOUT W/A DATE >>

GOOD JOB!!

-H. "MAC" McLEAN

---
I have to say this was absolutely beautiful. I am from Amarillo & I have been to nearly every one of the places in this video. This was such a wonderful trail of memories. Thanks for doing such a wonderful job on portraying, "the then" Amarillo.

Blessings,

-Reesie Simpson Petree

---
What was the name of the Motel that opened in 1967 on Grand –I-40 by Grand Bowl? It housed the DINNER THEATER for awhile. I can't remember the name. I did go to the DINNER THEATER several times. Can anyone help??

-Haroldlena Robertson, RN

That was the Villa Inn. It had a 24 hour restaurant and an indoor pool surrounded by real banana trees. Country Squire Dinner Theater opened in what had originally been built as a convention center on the west side in 1979. The hotel and all the other buildings in the area, including the Grand Bowl, were demolished to make way for the Grand Street Super Walmart in 1993.

-The Boys Downtown

---
I came to Amarillo with the air force in 1952, stayed there till 1967 when we moved to Tulsa.

Worked at the old downtown post office 1955-1967 also part time at KIXZ radio as a Broadcast Engineer, also did a little air work on weekends east of midnight show as John Roberts

Friends and I use to drag Polk all the time and do remember the old Cretney drug store and good icecream sodas.

Living in Missouri now but still get back to Amarillo about every other year.

Like most downtown area's Polk street isn't the same, still have a few friends in the Amarillo area.

Does anyone remember Gary Mac or Chuck Dann at KIXZ, they went on to big times in radio..Chuck Dann is no longer with us.

-John Tudenham

Joplin MO

---
To whom it may concern;

Last week I was shown the website with the old photos. Brought back many memories of growing up in Amarillo, not to mention the dances I attended as a teenager in the '70's. I saw a photo of an old amachron dance dj Rick Ortega. Reminded me I hadn't seen or talked to him for a few months.

Ironically, he was passing through Amarillo this weekend and passed away from a heart attack at a local motel. God bless and take his soul to eternal heaven.


Thanks
God Bless
Luis R Hernandez
Caprock class of '78
---

---
Remember Amarillo well. I was stationed there in early 1963, going thru the aircraft maintenance school at the base.
I do have memories of the wild times I and others had on our "weekend passes" to town when the weather approved of it. That weather would change in a matter of minutes. We would be marched to school on the flightline. But one day while in school, the chief came in and said to pack up and get ready to be bussed back to our dorm. The dorm was only blocks away, but the nearly blizzard conditions, felt like two hours to get there. On top of the blowing snow and sudden drop in temperatures, our boiler went out of working order in the dorm. I think we had about four blankets thick on each of us to keep warm that night till the next morning to wake up to heat again.
I had shopped at a very well known clothing store(?) in downtown Amarillo while there. I bought a very expensive cashmire sweater for myself. Would you believe that my wife still puts it on during our cooler nights. There is no buttons and it has a few holes, but it keeps her warm.
I also, have my earliest "military Photo" taken from a photo store from Amarillo, that came out to the Air Base exchange. Of course, they would put the "icing on the cake" saying everyone back home needed "a sharp soldier photo"!!!!!
Yes, I do have some vivid memories of Amarillo and the base. And, yes, back then they had the ole "rent-a-wreck" for us soldiers to rent and drive around town to meet the "locals".

Its nice to share your lifes happenings with others,
-Boyd Brannan (USAF 1962-1987)

Joining then from Maryland
Stationed in Europe (after Amarillo), Ill.,TX, NM, Alaska, Vietnam/SEA
Now retired on the OUTER BANKS (coastal islands) of North Carolina

---
I have this site saved in my "favorites" category and every once in a while I go down memory lane… "Thank you for the memories." I appreciate all the work you have put into this project. I only lived in Amarillo for a total of 5-6 years in two different intervals, but I have precious memories of those short years. I wish I could find such good coverage as this of my home town.

Again, Thanks,

-Doris

---
What a joy to revisit the Amarillo of my youth.

I went to Bowie Jr. High, Amarillo High, then was a part of Caprock High's first graduating class in 1964. What a great education I received at those schools, preparing me so well for college and, later, graduate school! And football and baseball were my life! Dick Bivins Stadium, and so many other stadiums and ball fields throughout the Panhandle, and much of West Texas . Friday night high school football in Texas is an institution - no, more a spiritual experience!

Congratulations to you for these photos and their many stories.

Amarillo - what a great place to grow up!

-Rick Smith

---
Wow!! What an amazing collection of memories. I worked in several building in Amarillo. However, the picture of the Borden's Milk Train made tears flow. My late husband was the conductor for that train. Thank you for the beautiful memories.

-Dixie Brummett

Vinita, Oklahoma



---
I have some 60s photos I'd like to forward of The Kitchen Cinq! We were known as The Illusions before we went to LA in 66. We took JD Souther to LA with us. I'm still in the music business and have lots of stuff.

I also have a few snaps of Baby from Amarillo that I traveled with throughout the Midwest opening show for REO, Aerosmith, Exile and Black Oak to name a few.

-Regards, Jim Parker

www.JimParkerMusic.com
www.youtube.com/jimparkerssongseri

---
Elvis Presley was at the Amarillo Auditorium in 1956, and had Johnny Cash for his opening act. Tickets were obtained by keeping Furr Food checkout tapes and turning them in for ticketrs. The crowd wanted to see Elvis and let Johnny know it. Johnny said he had planned to do his imitation of a Jackass, but that the crowd had beaten him to it. He sang one song and left the stage and didn't return. Elvis broke most of his guitar strings, but continued with his act. The sounds from the crowd were deafening, and Elvis could just barely be heard.

-Buddy

---
That was a fun trip... Although I was in AHS class of '52, and left Amarillo for the Marines in '53, I saw several things I particularly recalled:

The magnificent steaks at Ruth's Steak House...
Our annoyance that Longchamps (in NYC?) forced our own Longchamps to change their name to Rice's Dining Salon...

And I washed dishes in the summer of 1950 at Joe Wing Lee's Chinese Restaurant, on West 6th, right next to the Nat Ballroom. He was shot (but not killed) by some nut when the Chinese became involved in the Korean War. Joe was about as much of a capitalist as anyone!

Thanks,
-Jay Graham
Arlington, TX

---
I AM SO THANKFUL THAT YOU HAVE TAKEN THE TIME AND EFFORT TO PUT THIS TOGETHER.

I HAVE SENT THIS TO SO MANY OF MY FRIENDS AND FAMILY.

THANK YOU, THANK YOU, THANK YOU!!!

-KAREN (REEDER) EASTERLING, class of 66 AHS

---
Thanks millions for the memories..I've lived here since the early 40's..Isn't it amazing how things change

& we don't remember until some fine people like you brings it all back in this fine history lesson...Thanks

again...I'll send this on to a lot of my friends.

-JERRY GRIFFIN

---
That was most enjoyable to go back through time and see Amarillo as it was while I was growing up. I would love to see these pages just keep on getting bigger. If I can find any pictures of old Amarillo I would make copies and email them or send them to you.
Amarillo 1957-1973 and then back to visit every year to visit my mother.

-David Gonce

---
Thank you for your excellent work on this. There are so many treasured memories of my youth in Amarillo. While viewing the pictures, I realized my eyes were clouding beause of my tears. What a simple and wonderful life we had in this Texas Panhandle town. I am very greatful that I was able to spend my childhood here. Jean Fielden, born in West Texas Hospital, 1944. I left Amarillo in 1966 and have alwalys been proud that my roots are here. I learned how to walk tall in the wind. That has served me well throughout my lifetime.

-Jean Flaherty

---
I was a member of the second graduating class at Palo Duro High School (1957) and this web-site surely does bring back many memories. I ate many a pizza burger at the Ranger Drive In and watched many movies at the Paramount and State Theaters. Twing's Drive-In was the place to go after school to buy a coke and to see and be seen. Dragging Polk was a weekend ritual. We would load up the family car, pool our money to buy a dollars worth of gasoline and make the drag.

Thanks so much for creating this site. You've given a great deal of enjoyment to a lot of folks as we reminisce about our youth.

-Julia Bromley Palo Duro High School Class of 1957

---
I have several shots of Amarillo scenes from when we lived there, 1962-68.

I've got a shot of:

the old miniature Santa Fe engine and kiddie railroad at Wonderland

The Soap Box Derby races

Baseball practice behind Mesa Verde Elementary

My dad's friend getting ready to fly home to Denver in his Mooney airplane from Tradewinds airport. The big hanger is visible in the background with "TRADEWINDS" painted on the roof in huge, yellow letters.

Please reply if you're interested.

It's amazing that nobody bothered to shoot pics of Meyer's Drumstick. I remember the little electric trains that used to run around ceiling, and strange, green flocking on the walls.

There was another restaurant we ate at called the Wishbone, that I didn't see mentioned.

Great website.

Thanks,

-Tom Shaw Lakeland, FL

---
Thank you so much for what must have been a Herculean effort in putting together this site on Amarillo. I met and married my Pennsylvanian husband in England when he was in the Air Force. When he was reassigned to Amarillo AFB in 1961, it was a pretty quiet town. I knew every single street back then because I was 'The KJCK Phantom' for several weeks on a special giveaway by the station. I went door-to-door seeing who was listening to KJCK and if they were, I called the station DJ, went on the air and the DJ announced the gift they were to receive. I also did commercials for Gunn Brothers stamps, which were aired on TV and radio. My little daughter went to the Thelma Davis School of Dance for a couple of years before we were reassigned. I got my Certificate of Naturalization in Amarillo in January 1965 so I think of Amarillo as my hometown, even though I was born and raised in England. I do have fun with folks even now, when they tell me that they detect an accent and ask where I'm from. I tell them 'Texas' and love the expression on their faces when I say that. LOL! I also worked at a drive-in as a carhop on Route 66 on the west side of town. I can't remember the name of it. The owners also bought a night club further west. I can't remember the name of it either, but it burned down while I was working there as hostess and instructor of 'The Twist', which was big at that time. Amarillo sure has grown. The newest place I remember while I lived there was Sears on the south side of town. I worked there for awhile, too. Ah, those were the days. Thanks again for the memories!

-Anita Watson Junction City, KS

---
The 1961 AHS High School class is soon to celebrate our 50th Anniversary. Is there a possibility that we could show your Amarillo Graffiti video at our dinner?

Thank you,

-Phil

Phil Price, President

The Price Group

---
I have been searching for information about a Country show I saw in late 1956 or early 1957. The only performer I can recall is Brenda Lee. I bought my first new car, an 1957 Pontiac Super Chief after coming down from Springfield, CO to get it. I have gone "nuts" trying to find out who else was onstage that night and would appreciate any information. I have to assume the show was in the old City Auditorium. I will be in Amarillo in October (have to get my Big Texan steak) and will try to do additional research if necessary.

Please help if you have anything for me.

-George Taylor (Pennsylvania)

---
The fire at 2523 Britain a few weeks back prompted Jamey, Morgan and Mike on 100.9 The Eagle to start reminiscing about how many clubs have been in that building. This inspired me to do some research on bygone restaurants, bars, theaters and other entertainment venues. My list now has 350 listings, and is posted at http://AmarilloNightOut.com/blog. I gleaned quite a bit of information from this site, but I've also found details on other sites as well, and the new Facebook group, ""You may be from Amarillo if..."

The theater section is complete to the best of my research, but the other lists are still a work in progress. i'd appreciate any notes on anything I've missed or to correct something I got wrong,

Here's to preserving this fine city's history!

-Jim O'Malley


---
I hope this is still Ronn Wood's thing.) Thanks for putting this all together for us! I love sharing the town I grew up in with others in my life, as well as hooking others from Amarillo to the page.

Thanks again,

-Kim Shipman

---
I visited Amarillo recently and finally completed a search that I began
several years ago. I located an ad in a microfilmed newspaper for a country
show that I had attended many, many years ago (54 to be precise). I had
forgotten all of the performers names except Brenda Lee so had something to
look for. I finally learned that the show was on Saturday, May 25, 1957 at
the old City Auditorium. I had purchased my first new car that weekend which
is why I was in town, as I was living in Springfield, Colorado at the time.
The performers that night were Brenda Lee, Patsy Cline (just off her
winning performance on the Arthur Godfrey Talent show), Jimmy Newman, George
Jones, Everly Brothers, Mel Tillis, Judy Lynn and a bunch of other people. I
believe that George Jones came on stage on crutches, which, knowing his
history, would not have been much of a surprise.
During my search, I also learned that Elvis Presley had been in town in
either late 1956 or early 1957 and received rave reviews.
What a lineup of real country music history.

-George Taylor, Harrisburg, PA.

---
This is a follow up to a recent posting of mine. I reported learning who performed at an April 1957 concert in town. I listed the performers in my last posting. I have since gotten a copy of the newspaper review of that show. The reviewer might want to eat his or her words today. The review raved about Brenda Lee, the headliner, but spoke of having to sit through a host of mediocre performances by the other performers (George Jones, the Everly Brothers, Mel Tillis, PATSY CLINE, and several others whose names are also in my original post). A bunch of nobodies, huh? A long reach back in my memory book is finally now complete.

-George Taylor, Harrisburg, PA.

---
I grew up in Southeastern Colorado and had relatives that lived in Amarillo when I was young. My uncle Jimmy Emmerson worked for the Santa Fe Railroad there until he was transferred to Topeka. We traveled to Amarillo often to visit them. As I grew, my friends and I would got to Amarillo to the drag races, specifically the Texas vs California races. We would always eat at Shaky's Pizza, all you could eat, and then go to the races. Then we would head to the drive in to watch a movie before heading back to Colorado. We still travel to Amarillo to see the best doctors in the world. Thank you to Dr. Assadourian, Dr. Lim, Dr. Forero, and Dr. Schnider for making my family well.

-Ben Acre ....Walsh, CO

December 14, 2011

---
I tell you I enjoyed all of this!!! I was here when it WAS GOING ON. TALK ABOUT A TRIP DOWN MEMORY LANE, WHEW!!! THANK YOU SO MUCH!

-KewpB

March 12, 2012

---
Thank you for the memories.

Just a note: the Furr's Grocery attributed to Western Plaza wasn't there:

There was a Furr's Cafeteria at the South Entrance, but not a Grocery in Western Plaza.

We moved to Amarillo in 1937...

Jack Wirtz, AHS 1955, Page & Wirtz Const. Co., 1964-1986

(We also built several of your photos)

-Jack Wirtz

Austin, Texas

March 17, 2012

---
There certainly was a Furr's Supermarket at Western Plaza! It was outside the indoor part of the mall on the far south end of the building. I worked there as a sacker during my junior year in high school and so did my (now) wife Diane. After the grocery store closed that space became a stamp redemption store and my mom worked there. Then later it was a ski shop for a long time. The space was still occupied by a gym when the new company bought the mall to tear it down and build the current shopping center.

-C. Davis Amarillo

March 25, 2012

---
Yeah, I worked there too. Carried out many bags of groceries from that Furr's. That's a good pic of it on the page.

-Gene Ellison

March 28, 2012

---
Great times, great photos, great memories. Thank you so much.

-George and Donna Rankin Bonita Springs, FL

March 28, 2012

---
Thanks for an interesting time down memory lane. It makes me smile and feel sad at the same time. Lots of water under the bridge since the 60's. I still miss a lot of it too. Guess I'm getting old. Grew up in Adrian, Texas. I still think the people in the Panhandle are the best.

-Linda Pond Queen Creek, AZ

April 20, 2012

---
Outstanding piece of work! I hope that you continue to add as suggestions come in --- Mike's Spanish Kitchen, Paradise Too, Graham Plow Company (the plow that saved the soil during the dust bowl - a very important company here in Amarillo), Beck's Boots, Stanley's Drive-Thru, Fedway's, Blackburn Bros. Clothing, The Hub Clothiers

-Cathy Marrow

April 23, 2012

---
Thanks for the trip down memory lane. I was born here in 1932 and except for 4 years in the Navy ( ' 51 – 54 ) this has been home. Memories. Great job. Thanks for putting this together.

-Doyle Moore

April 26, 2012

---
Very enjoyable ramble down memory lane-thank you, we were not natives of Amarillo or Texas but got here as soon as we could and have loved every day since March of 1969.

-Don pat

April 27, 2012

---
WOW!!! What awesome photos and great memories you put together!! Give us a round two, please. We want more Amarillo history and trivia. I was born and raised in Amarillo and it was really fun to see the transformation of our great city. Well done!!

-Wkrobbins

May 4, 2012

---
OMG.....WHAT a walk down the lane! I just had memories I didn't know were there! Thank you for that!

Tascosa graduate 1961,

-Sandra Manley

May 20, 2012

---
Thanks for the walk down memory lane. I actually grew up in Dumas but spent a lot of time in Amarillo and then lived and worked there in my adult life for a while. I worked for Shamrock Oil and Gas right after college and then later worked for Social Security in Amarillo. What a treasure!

My oldest daughter was born at the Baptist Hospital when it first opened.

I shopped in Wolflin Village and I remember shopping at Fedway.

I remember the Hi D Ho Drive In.

When I was growing up in Dumas, it was so exciting to come to the "big city" and eat a Myers Fried Chicken,

Thanks again!

-Lynda Peugh Dallas TX

May 23, 2012

---

I received the pictures of Amarillo in an e-mail from a friend. I've been gone for many years but have wonderful memories and wanted to thank you so much for the walk down memory lane. Makes me really homesick. Thanks again

-Carolyn Stokes

May 23, 2012

---

Hi, I just got forwarded the great old photos and clippings of Amarillo and was so surprised to see AmaChron's name as the source! You always had the superb collection, thanks for sharing. I especially enjoyed the link to the dances and seeing photos of my old buddies, Ron, Billie, dear RWII, et al. Hope you are well and happy, I am back in Ama. these days.

Rock on,
-Karma Denton

May 24, 2012

---


THIS WAS WONDERFUL...THANKS FOR THE MEMORIES....I SENT IT TO ALL MY FAMILY AND FRIENDS STILL THERE.

-RT Goebel

May 25, 2012

---


This was soooooo good, lots of memories. So many places have been gone for a long time, these pictures bring them all back!!!

Thank you so much.

-NDyes

June 15, 2012

---

Best part of my younger days there from '64 to '68 ;Happiest part of my childhood . All the pictures brought back many wonderful memories . The Bivins library , Vicks across from Amarillo High. My dad had the Amarillo College of Hairdressing and London Restaurant next to Sid Stout Ford. Left when air base closed to go to Lake Jackson , not a happy time. Thanks for the memories

-Leslie John

June 19, 2012

---

Loved it. I grew up in Amarillo 47-67. You captured most of my formative years. Thanks to that large runway and working at the Downtowner Hotel as a desk clerk during the summer, I joined Continental Airlines in Los Angeles as a stewardess and saw the world. I have such fond memories and with your help I can share photos of them with my children and grandchildren.


Thanks so much for all the effort you put into this. I would like to make a small contribution as a thank you.

Please send your mailing address unless you are selling a DVD and I would be interested in that.

I would be very interested in the background of the making of this picture time capsule. Have you written or recorded the information? I'm sure many would enjoy knowing where you got the photos and how you made your selections.

Sincerely,

-Joy Williams Los Angeles

June 27, 2012

---

My hat is off to whoever and all that worked on putting together this collection. These photos took me back to simpler times as I grew up in the Panhandle. We lived in Wheeler but made many, many memorable trips to Amarillo for business, shopping, family outings, etc. I roamed all over Palo Duro Canyon throughout the early '60's. I marched in the Tri State Fair Parade a couple of years. As I said, so many memories.

-John Dunn

August 13, 2012

---

WONDERFUL site!!

-Nancy Abraham

September 3, 2012

---

Hi, I was born on the base in Amarillo in 1960. I found this site interesting, thanks.

-Laurie Wilson

October 12 , 2012

---

What a wonderful job!

-Louis Montano

November 13 , 2012

---

I only lived in Amarillo from Autumn 1979 to Summer 1985, but I enjoyed these photos and ads very much. If you could find & include a couple of pix of the baseball stadium, that would be even nicer.

BTW, the best steak I ate while in Amarillo was at the Stockyards Café. I recall looking at other customers & seeing cowboys with dung on their boots alongside bankers in three-piece suits!

david anthony denny

Martinsburg, West Virginia

January 1 , 2013

---

What a great site! I lived in Amarillo as a kid, moving to Dallas in 1965 in the middle of my 8th grade at Crockett Jr Hi. Growing up in Amarillo, people just don't believe the freedoms we had back then as kids. I'm writing a book of how things were back in the early 60's to be 12 or 14 years old.

Your site helped me remember so many things that I'd not thought about in years. If you have any suggestions of sites where more Amarillo history is I'd love to hear from you.

Best Regards,

-Barry King

May 1 , 2013

---

This is great! Great great!

-Adam Squire (lived in Amarillo 1957-1977) & wanna come back

March 16 , 2013

---

A good friend of mine moved to New York for a job in 1968. He worked his way up and got a job in Amarillo. He traveled from the east coast

into Amarillo in late 1969 where he drove directly to 6th and Polk and kissed the ground.

-Frank R.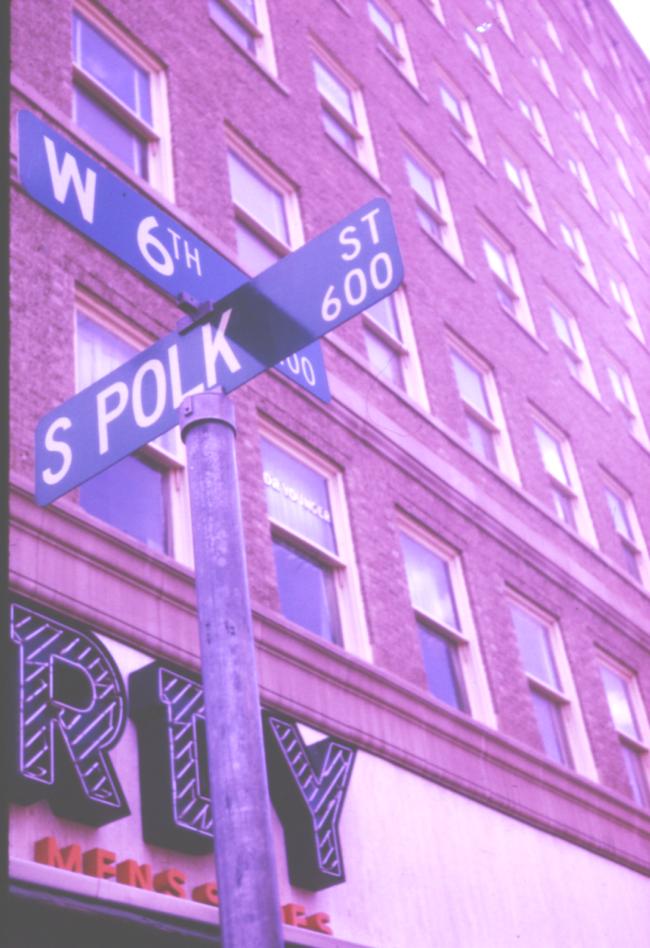 CENTER OF THE UNIVERSE

June 11 , 2013

---

So many great memories. Thank you very much.

-Arthur & Ann Garfield we lived in Amarillo 1945 to 1971 and saw it all

August 10 , 2013

---

I lived in San Jacinto and then in Olsen Park while growing up. I spent many unforgettable hours on Polk Street and at those movie theaters .

Thank you so much for this historical treasure.

-Amy Cooper

September 20 , 2013

---

You documented my life in photos….

The photo of the Sunset Drive In…. I was working there when those movies were showing.

Thank you so much for the memories.

-Mark

October 19 , 2013

---

Thank you for posting – I was a kid in Amarillo in the 60's when my dad was stationed at the AFB.

Great memories!

-Marcia Rey

October 26 , 2013

---

I was stationed from June 1966 until December 1966. Loved the town and people and the picture of the Crossroads Motel

and Restaurant brought back a lot of great memories. Thank you

-John Giovannoni

Stockton,Ca

December 20 , 2013

---

Hi,

I hope you can help me out. I just recently lost my Grandpa he passed away on the 18th of January. We were extremely close and at his services this picture of him and my grandma was shown. I have never seen it before and I absolutely love it!! Long just of it from what I understand my grandparents both lived and meet in Amarillo, Texas. My whole life they lived in Plainview, Texas and every summer had a family Reunion for the Collie's at wonderland park. My grandpa Richardson "Travis" Collie was born May 27, 1932. My grandma Llawanna Shannon Collie born also in the 30's. Without fail we went every summer in July to Amarillo. My grandpa was an inspiration man he restored several classic cars which we would also take a couple to reunion. I also know that they were a big supporter of Cal Farley's boys home. I am wanting to do the research and possible find out where they were when this beautiful moment in their lives was captured. I am assuming it would be mid-late 40's? This was before they ever had a family. They would of marked their 65th anniversary this year. They had 6 children 4 boys and 2 twin girls. My grandpa made an incredible mark on this life and history. He is my hero and I want to honor him and be able to continue sharing his legacy. Any help or pictures to the era and stories or articles would be greatly appreciate.

Sincerely,

Jennifer J Wilhite


February 12 , 2014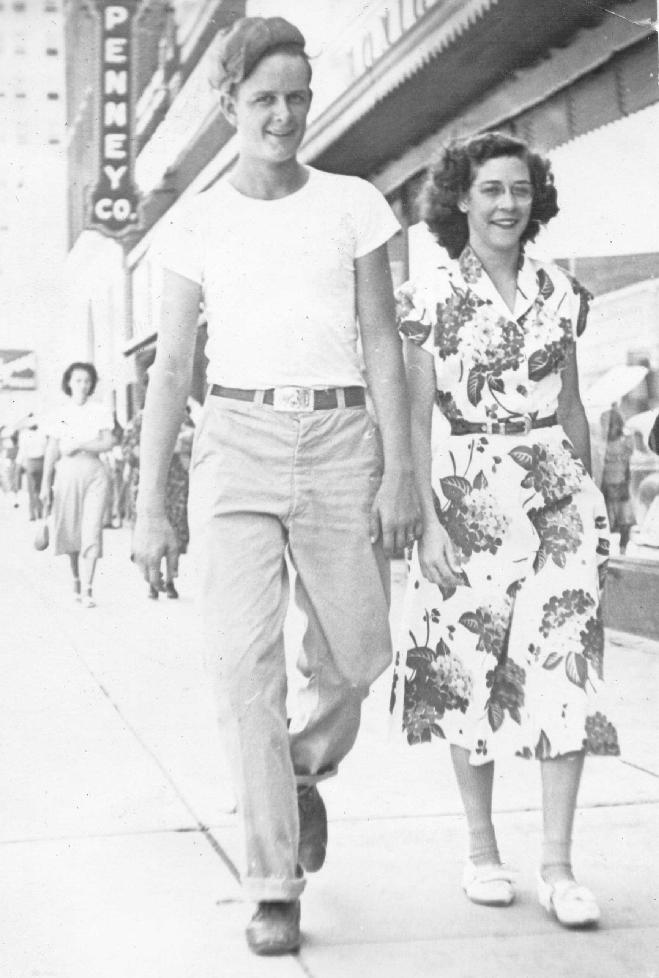 They are in front of the KRESS store at 7th and Polk. -RW

---
IAmazing! I remembered much that I did not know I could remember. I was raised in Groom, TX on Route 66 east of Amarillo.

However, Amarillo was the go-to place for everything. Thank you,

-Glynda Harrell Eschle

May 16 , 2014

---
Thank you for all the time and attention you had to have spent putting this site together. I was born in Amarillo and my parents moved us when I was 2. We returned when I was 16 and I mostly lived there until 2001. I graduated from the old AHS in 1960. I hated school, but cried when it burned. I hated the wind, but have many fond memories. I love looking through the pictures that you have accumulated.

-Thank you again. Betty Curry Hale Mesa, AZ

May 26 , 2014

---
Loved your collection of old photos. After growing up in Amarillo I hit the road west in 1952 and have never had the opportunity to return.

Is my memory playing tricks or wasn't there a Leon Theatre somewhere across Polk from the State and Victory Theatres? I failed to see it listed.

-Robert Voss

June 5, 2014

---
Wow, what a blast from the past! I was born in Amarillo in the 60's and your site brought back a lot of great memory's of my

dad and mother and of my childhood.

Thank you so much to everyone that put this together.

Thanks again,

-Shane

June 29, 2014

---
I was searching for Stanley's Drive-In this evening, hoping to locate more information plus the address on Georgia St. I came across your site, Amarillo Graffiti and was very pleased! What a wonderful collection of pictures and newspaper clippings. Thank you for the trip down memory lane! (I sent a link of your site to a few friends, who will enjoy the pics as well.) Thanks again for this great collection. ?

-Jackie Dunlap

July 17, 2014

---
Hi D Ho, Double Dip, Amarillo High (Sand lot baseball), Alice Landergin, Stephen F Austin, Brooks Drug, dragging Polk Street, TG&Y, Victory theatre, Elkins produce, Meads bakery, Thompson Park, Hawbakers Auctions, Palo Duro drive in, ..........

Thank you for the trip ...........
-Ross Grenz

August 9, 2014

---
My father, Troy Jones, built this, the first Holiday Inn Motel west of the Mississippi River, at 1411 NE 8th, in 1954. Donnie Boyd, now of Boyd Financial, was his manager. You will note that the sign says "Holiday Inn Motel". Dad told his franchisor that "Inn Motel" was redundant, and it is my belief that that is the reason they are now called "Holiday Inn". Dad previously built about 1,500 "GI Bill" homes (2/1, 3 floor plans flipped for a total of six choices) in Southdown, and later built Southdown Shopping Center in 1958, before retiring to Jelm, Wyoming, in 1961 at age 46. J. O. Wyatt Clinic is on the site now, and Rice's Restaurant was next door.

-Keith Jones

November 11, 2014

---
OMG I love this site it brought back so many memories

Karla Dyess
Safety Manager
Wipp Office

November 13, 2014

---
Thanks for the memories on the website. I live in Amarillo from 1969 to 1985 and miss it.

Looking back at all the photos brought back a lot of memories. I went to Whittier elementary and to

Travis JR. High and left there in 1985 due to my dad transferring with his job and I have been

trying to get back ever since.

-Keith R. Baca

January 31, 2015

---
Just came across your web site on Amarillo. I was stationed at the air base in 1966-68. The Air Force lost my records during the shutdown and I ended being there by myself for about five months after the base closed and all the B-52's and personnel left. My only job in the Air Force while I was in limbo was to go out to the base once a week and check the locks on all the gates. When the Air Force finally "found" me, I handed the keys to the base over to the mayor, took $1.00 from him and mailed it to SAC headquarters in Nebraska. That had to be the best real estate deal in history. While I was waiting for orders to leave, the Air Force let me get a full-time job in town so I went to work at the Globe-News as a sports writer. I had been a journalism major at North Texas State University when the draft was looming, and I joined the Air Force before my local draft board pulled my name out of the wheel. I covered Tascosa High sports. One of the hot shots on the football team was a big kid named Jack Mildren. When I was a student at Abilene Cooper High, my little brother and Jack were elementary school running buddies. I used to dish out noogies etc on them when I caught them messing with my stuff. Needless to say I was a little apprehensive when I was assigned to go out to Tascosa and interview Jack. He did not remember me until I reminded him that I was Rusty Herridge's big brother. He grabbed me and gave me the noogie of all noogies, then we both had a big laugh. Also worked with Putt Powell—mean, nasty old curmudgeon who, for some reason, was totally taken with the fake pro-wrestling that was popular then. I worked the Saturday night sports desk and we took calls all night from people asking for football scores from around the country. I remember one guy, had a severe lisp, who would call every Saturday night at 8 p.m. on the dot. "Could you give me the score of Lipry Rock?" He would ask. We would give him the score, and, in his lispy Texas twang, would say "OK. Thank yew." Slippery Rock College was up in New England somewhere, and knowing that he would be calling, we always looked up that score first and posted it on a big blackboard in the sports department. We never found out who he was, but you could set your watch by his Saturday night call. Also remember a goofball TV weatherman named Dan True, who always suggested that people put a blanket and a jar of peanut butter in the trunk of their car in case they got snowed in out on the road.

Amarillo was my first assignment out of Air Force electronics tech school, so it has a special place in my heart and my wife Diane's heart. However, even though I was a born and bred Texan, I still got pretty bad treatment from the civilians there once they learned I was in the Air Force. I guess that was natural in any military town, but to this day I still resent the way the locals treated us Air Force people. I always got the feeling that they wanted my money but didn't want anything else to do with me. Diane and I both got part-time jobs at night when the big Woolco store opened. I worked next door at night selling photo equipment at Sears, and Diane worked in the jewelry department at Woolco.

Anyway, thanks again for the memories.

-Bill Herridge

Gatesville, Texas

February 25, 2015

---
Awesome Stuff !! I couldn't find photos of individuals except one of Dave Wilson & Misty & Charrona together !! Very cool !

-Charlene Andregg

March 17, 2015

---
Thank you so much for the site! I would love to know what happened to our town Amarillo? Any insight would be appreciated.

-Terri Montes Amarillo, Texas

March 18, 2015

---
This is an absolutely wonderful website. As a 1961 grad of Palo Duro High, it brings back so many great memories. I used to hang out with a lot of kids from Tascosa and Amarillo High so I'm familiar with all those areas as well. Attended Amarillo College after high school graduation and then again in 1964 after getting out of the Navy. Finally left there in June 1965 and have only been back once in the mid 70's while in law school in Houston. Passed through in 89, but we were on a mission to see our ill father and didn't get to stop and visit. Hopefully, I'll make it back one of these days as growing up in Amarillo was the best. Terrific job putting this together.

Would have also loved to see something about the Café Capri pizza place, my first pizza and the best I've ever had. The salad dressing he made was just unreal. Last ate there in 65 before leaving Amarillo.

Thanks for the memories

-John Summerhill

McAllister, MT

March 30, 2015

---
I saw your website in 2008. It is a great reminder of growing up in Amarillo. I attended the old AHS on Polk. I was a sophomore when the school burned, Sunday, March 1, 1970. The school did not burn to the ground in fact part of it is still there. The cafeteria, the gyms, and the auto shop were still there the last time I was there(2012). The auditorium (which was in the middle on all three floors) and the third and fourth floors in the back were destroyed. We went back to school on adjacent properties and churches the week after the fire. The following August we went back to classes in the main building. I think the last graduating class in that building was 1974.

-Donna Epps Compton
April 1, 2015

---
Thanks for the memories. Super website. Was stationed at Amarillo AFB 1960-1962. Being from Corpus Christi, TX

did not know what cold was until living up there. Was there when Big Texan opened.

-Allen Mc

Montgomery, TX
August 22, 2015

---
Thanks so much for posting this wonderful history of Amarillo in pictures! Brings back many memories of having been there…done that! Thanks a million!

-Don Acrey, Tascosa High School Class of 1967

November 11, 2015

---
I so enjoyed this. My memories were more from 1956 to1961 but it was so nice to see. People don't realize that with dragging Polk

we were able to stay out of trouble. It was something to do for us and we all loved it! Thanks for the memories especially enjoyed at this awsome time of year.

-Sincerely, Barbara Stewart Watson

St. Mary's Academy and

Palo Duro High SchoolNovembNove

November 29, 2015

---
Amazing collection of Amarillo's past. Thanks for all your work.

-Anna Lou German

December 7, 2015

---
What a great trip down memory lane. Grew up in Amarillo, went to school here, married an airman stationed at the base, moved away for several years and came

back to live and work here. Now retired, sometimes seems like yesterday seeing all these great pictures.

-Dana Hodge

December 11, 2015

---
Great, great, great memories!!! I spent hundreds if not thousands of hours on Polk street and all the drive inns. It was a pleasure to take a trip down memory lane.

Please produce more of these memories if possible.

Thanks again

-Wayne

March 23, 2016

---
This was so wonderful brought back so many memories. I didn't see when President Gerald Ford came here. I have a card that he signed at the airport.

I don't know what year it was.

-Lynda

March 30, 2016

---
Lynmarks 122 S. Polk...Used Wallace china with topmark (on ebay now)...referenced in Daily News for 1950 (July & Dec)...anything known (see RWCN Restaurant Ware Collectors Network for inquiry on this). Thanks.

-Al Donnelly

September 12, 2016

---
It was AWESOME to see the old sights of my childhood! This is a great website!

-Steve A. Buckles

October 24, 2016

---
I married and moved out here in 1949---needless to say "things, they have been a changing" --- the "Jones Brothers" at NE 8th and Buchannan I knew had only fried chicken,fries, bread? drinks and NO SILVERWARE you ate with fingers and had a damp cloth and fingerbowl ---- WAS SO GOOD----

just saw a pic of THE VILLA INN, In the 80s we had a STATE SQUARE DANCE here-- it was one of the largest ones ever held and then in a few years the WHIRLY BIRD Sq dance club of Amarillo had an anniversary dance and I was told that we had a record 84 sqs dancing at The Villa motel located at I-40 and Grand---one of the largest dances ever---we visited for months inviting people from every little town with in 100 miles in Okla,Kansas,NM in person and all over by mail (you remember, paper stuff and a stamp)--- All of the state officers came ---we built floats and had a parade down town---we worked SO HARD and our feet never hurt SO BAD and we never had SO MUCH FUN----another example of what SqD can do --one Fri nite we promised and wanted to go to the Hereford anniversary dance --- Fri nite as a teacher you are dead tired—I got home got in the tub (ya gotta be fresh to SQDance) sat there and bawled big old tears thinking I couldn't –but I did- when the dance was over a group from a bunch of clubs found a place to eat –uh hu and we got home about two am ---also when we had to quit my weight went went from 132 to 157----THE BEST THING about it is the warm wonderful friendly caring friends you make ---OH MY GOSH what a wonderful thing to do---our club is down from 20some sqs to two—wish it would revive so people could enjoy it like we did TRY IT YOU WILL LIKE IT I promise

II AM SO HAPPY I GET TO LIVE IN AMARILLO, TEXAS

-Ruby Deputy

August 27, 2017
---
>Thanks for the blast from the past. Do you have any record of when the band Bread played at the Civic Center in 1971 or 1972. Thanking you in advance for any info you have.
-Sandy,
October 17, 2017
The Bread concert was October 27, 1972.
---
Hello,

I don't know who you are but I found this website today and I have to thank you for it. It's deeply fascinating to me. I have always wanted to see photos of my town from the past. It's just incredible. I lose track of time looking and seeing how things have changed.

Thanks again.

-Nate

November 28, 2017
---
Wow! This site and pictures brought back many memories of growing up right down the street from Sunset Center from 1968-1973….what a great time to be in Amarillo….
-Steve Buckles
February 15, 2018
---
I have viewed these pages a dozen times. It is so wonderful. Thank you so very much for showing this history of this great city. I miss these times so much.

-Pat Appletree

April 14, 2018
---
I love this page.

I hope it never goes away.

Perhaps Facebook it

-Bill Frost

March 26, 2019
---
A more simple time. Thank you for putting this together
-Bill Bristow
May 28, 2019
---
I grew up in Amarillo in the sixties and these old photos sure bring back warm memories. Thank y'all so very much!
-Greg Bowden
April 17 2020
---
Hello! I've lived in Amarillo most of my life, about 17 years to be exact, 2-3 years spent in the DFW area. I reckon I'd consider myself a native of this city. I never actually grew up in the 50s or 60s but it definitely is fascinating to see these photos of what it was like decades before my birth. Appreciate y'all at AmaChron for creating this riveting compilation.

- Caleb
June 1 2020
---
God bless you all for the great memories
Love for Amarillo citizens.❤
-Robert Gipson
May 12 2021
---

"In My Life" spoken by Sean Connery
Orchestration by George Martin
MORE TO COME